10 Ways College Teachers Can Support the Future
of CQ/CE and Your Students
What follows are tips from Andrea Olsen, Professor, Dance Program, Middlebury College, VT:
10 Ways College Teachers Can Support Your Students
and the Future of

CQ

/CE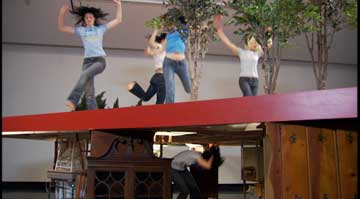 [Lt to rt] Dancers with Melinda Ring [under] in Ring's Huh? at the Tang Teaching Museum at Skidmore College, Saratoga Springs, NY, Feb., 2007. Rickety (2007), sculpture/installation by Martin Kersels. Video still © John Wagner and Galileo Multimedia. Courtesy of the Frances Young Tang Teaching Museum and Art Gallery at Skidmore College.
COLLEGE TEACHERS are a crucial link to the development of a thriving intelligent culture of national and international dance-makers. You can increase your students' access to vibrant ideas and practices in the field today. We suggest:
Make certain your library subscribes to

CQ

.


Order a back issue of

CQ

as a text for a course. Using back issues as material for class reveals the context in which the author's thinking has currency. It also introduces them to the journal and encourages subscriptions.


Give writing assignments based on

CQ

style/format as practice for writing for publications. For 45 years, the journal has offered dancers of all persuasions—including dance academics—a place to publish, making the link between writing and performing.

CQ

provides the opportunity to work with editors to clarify writing, maintaining a personal, experiential voice—writing

from

the body rather than

about

the body. See our submission guidelines.


Encourage students to use the online Dance Map Directory as well as the current print journal ad section as a resource for summer programs and international events. The


Bring issues of

CQ

to classes and jams, and put them out in student lounges.


Purchase the historical Contact Improvisation DVDs from Videoda.


Advertise your program and workshops in

CQ

's online Dance Map Directory.


Order dance books and textbooks for classes from Contact Editions.


Order your kneepads from

CQ.




Send interns to our office for a semester, interterm, or a year. Please email