Vol. 42 no. 1 Winter/Spring 2017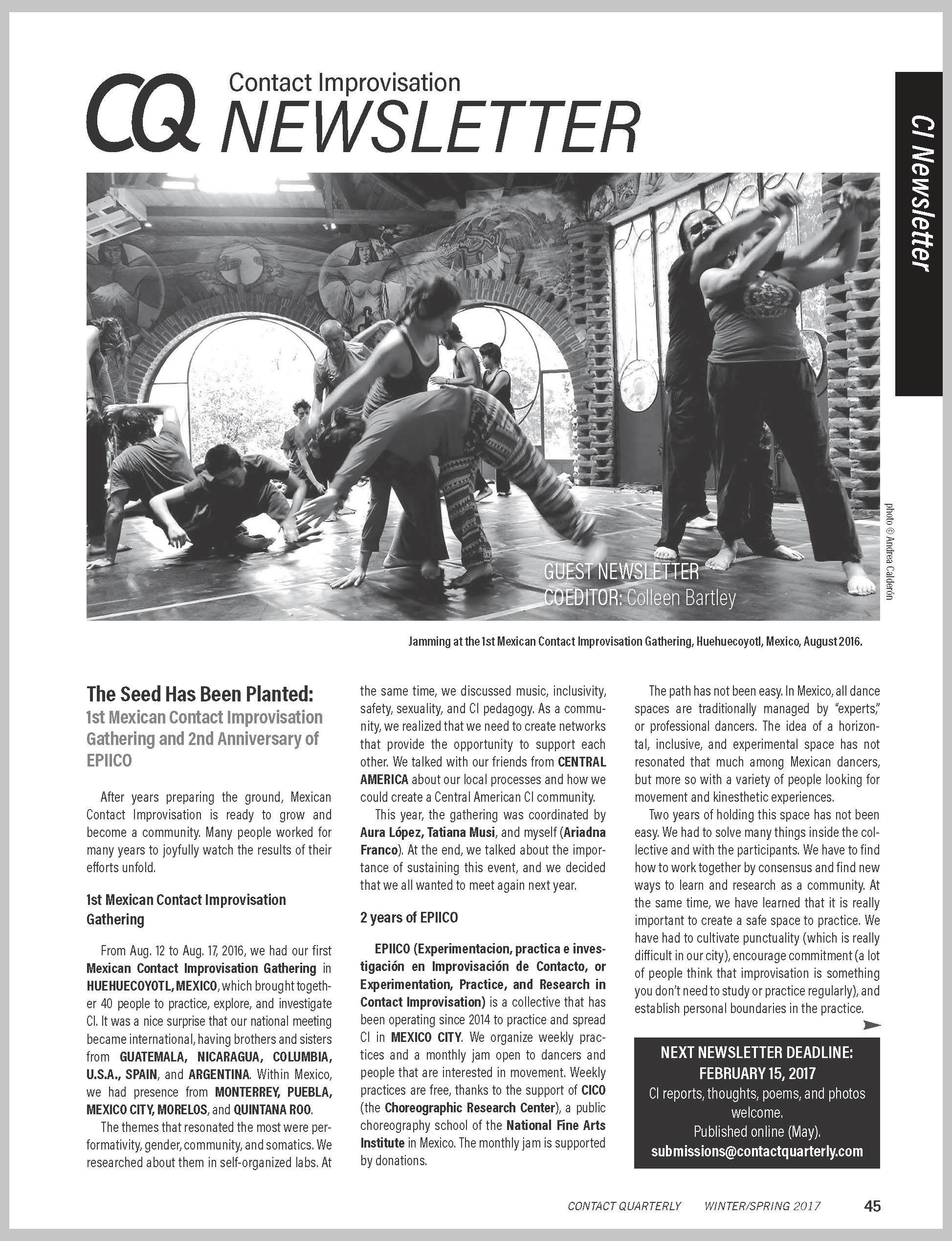 world-wide news & views
online onlyin print and online
read articles from the print publication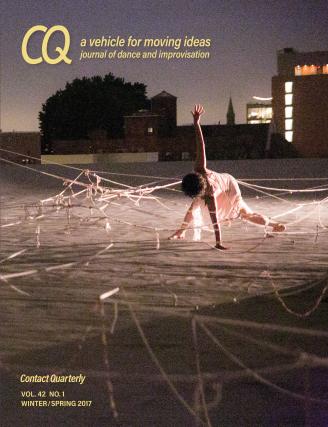 Contact Quarterly Volume 42 No. 1
Winter/Spring 2017

3
Editor Note
Suspension of Belief
by Nancy Stark Smith
4
Letters to

CQ

5
Why I Choreograph
by Victoria Marks
8
Shelf Life – publications received
9
E|MERGING:
a letter instigating change at Earthdance
by Sarah Young, Raul Roge, and Janna Meiring
12
Transitions:
Fred Holland

by Ishmael Houston-Jones

Céline Bacqué

by Sejin Yang and Bongho Kim

14
Rosemary Butcher (1947–2016)

What is Dance?

by Rosemary Butcher

plus tributes from Jonathan Burrows and Ramsay Burt

18
In Unison
Writings from the catalog for The School for the Movement of the Technicolor People
written collectively by dance company WXPT, including artistic director taisha paggett and visual art collaborators Ashley Hunt and Kim Zumpfe
22
A Wave, A Particle, A Wave
Talking with Barbara Dilley about inner aspects of practicing movement improvisation
with Nancy Stark Smith for

CQ

28
Conjuring the Spirit with Merián Soto and Pedro Alejandro
28
Todos Mis Muertos (All My Dead Ones) (1996)
by Merián Soto
29
OUT-FIT: Merián Soto's decadent defiance in

Todos Mis Muertos

by Pedro Alejandro
33
"You Dance Good for a White Girl!"
Musings on race, (de)colonization, and belonging from a light-skinned Latina
by Marina Magalhães
36
Clitoral Embodiment
A somatic practice and a non-binary approach to experiencing the genitalia
by Nicole Bindler
39
Still Moving—Contact Improvisation shoptalk & dialogue
Queering Contact Improvisation
Addressing gender in CI practice and community
by Kristin Horrigan
44
Essentials—Basic CI Principles & Practices
Leading & Following:
Focusing on the communication in and under the skin
by Joerg Hassmann
45
CI Newsletter—Contact Improvisation news & views
70
Dance Map Directory—contemporary dance & improvisation resources worldwide
76
Her Fishtrap
A poetic reflection on Paloma McGregor's

Building a Better Fishtrap

at Brooklyn Arts Exchange
by Ni'Ja Whitson
Contributor Notes
Contributor notes: Vol. 42 no. 1
Pedro Alejandro, associate professor at Wesleyan University, is a choreographer and videographer with an interest in mixed-media performance. He has been the artistic director of Pedro Alejandro Dance & Dancers since 1987 and his works—staged in caravans, processions, multimedia installations, video dances, and conventional theaters—provocatively tease the social and artistic habits that favor the privatization of the theatrical experience. Pedro has also created dances for the camera, showcased in Canada and Argentina. pedroalejandrodance.com
Nicole Bindler's choreography has been shown throughout the U.S. and abroad. She is a proud member of the Jewish Voice for Peace Artist Council, and she writes for thINKingDANCE.net. Bindler has three certificates from the School for Body-Mind Centering®, where she has been studying since 2009. She teaches Somatics and Improvisation in the dance departments at Temple University and the University of the Arts in Philadelphia. www.nicolebindler.com
British choreographer Rosemary Butcher made over 50 works, toured internationally, and is regarded as one of Europe's most consistently radical and innovative choreographers. By her determination to remain an independent artist, her use of cross-arts collaboration in music, visual arts, film, and architecture within the choreographic process, and her frequent choice of nontheatrical spaces to present her work, she forged her own place within the European contemporary dance scene. www.rosemarybutcher.com
Barbara Dilley trained in ballet, then studied and performed in New York City with Merce Cunningham Dance Co., Yvonne Rainer, and the Grand Union—a dance/theater collaboration that extended the definitions of improvisation. She designed the Dance/Movement Studies program at Naropa University, where she also served as president, and retired in 2015. This Very Moment: teaching thinking dancing, her memoir and handbook, was published in 2015.
Joerg Hassmann has been dancing and teaching CI for more than 20 years. He is the artistic director of the Contact Meets Contemporary festival in Goettigen, Germany, and has co-developed a systematic approach to CI-specific technique with Daniel Werner, which they share in training programs in Berlin and across Europe. His work draws from anatomy-based studies, release techniques, Capoeira, instant composition, developmental movement patterns, and fascia research. He writes about CI and the moving body: joerghassmann.wordpress.com
Kristin Horrigan is an improviser, choreographer, and performer, as well as a Professor of Dance and Gender Studies at Marlboro College in Vermont. She has been dancing CI for nearly 20 years and teaches it regularly in the U.S. and abroad. For the past several years, her research has been focused on the ways gender manifests in contact improvisation. This work has been growing through dialogue with numerous dancers and gender scholars, and through physical exploration with groups of dancers in intensive workshops in Germany and the U.S.
Marina Magalhães is a choreographer, dancer, and teaching artist from Brazil based in Los Angeles. Magalhães's work lives at the intersection between healing and provoking, social and concert dance, personal and political narrative, and traditional and contemporary practices. She is constantly crossing borders in dance and life and, thus, building bridges. www.marinamagalhaes.com
Victoria Marks has been practicing the knowing and unknowing of making dances for stage and film for 37 years. Marks's work migrates between "choreo-portraits" and "action conversations" for individuals who don't identify as dancers and dance works for professional dancers that fuel her inquiries into movement. She is the recipient of several distinguished awards and is a Guggenheim and Rauschenberg Fellow. www.victoriamarks.com
Paloma McGregor (Director, Angela's Pulse/Dancing While Black) is a New York-based, Caribbean-born choreographer, whose work centers Black voices through collaborative, process-based art-making and organizing. A deeply rooted practitioner of intersectionality, she creates projects in which communities of geography, practice, and values can envision their roles in enacting a more equitable and joyful future. www.angelaspulse.org
The School for the Movement of the Technicolor People took place at LACE, in Los Angeles, for six weeks in the fall of 2015. Its texts and curriculum were created collectively by dance company WXPT's founding members, including artistic director taisha paggett and visual art collaborators Ashley Hunt and Kim Zumpfe. For more info on the project and a full list of company members and collaborators, go to: www.schoolforthemovement.com
Merián Soto, creator of Branch Dancing and Modal Practice, has had a 40-plus-year career. Soto collaborated extensively with visual artist Pepón Osorio on such interdisciplinary works as Historias and Familias. Soto is a founding member of Pepatián, a Bronx-based Latino arts organization. With Viveca Vázquez she curated the celebrated Rompeforma Festival, presented in Puerto Rico from 1989 to 1996. Since 2005, Soto has created the Branch Dance Series, an extensive body of works in nature and projected environments. She is the recipient of several distinguished awards including a 2015 Pew Fellowship in the Arts. Soto is Professor of Dance at Temple University in Philadelphia. www.meriansoto.com
ADDITIONAL ISSUE CONTRIBUTORS:
WXPT, Jun Akiyama, J. Anderson, Peter Anderson, Dona Ann McAdams, Gabrielle Barnett, Colleen Bartley, C. Bee, Patrick Beelaert, Aurore Biry, Emily Bowman, H. Bracey, Whitney Browne, R. Bruno, Jonathan Burrows, Ramsay Burt, Nigel Butcher, Terry Cain, Andrea Calderón, E. Christovale, Jeremiah Day, Carrie Demers, David Ellis, Defne Erdur, Ian Ferguson, Ariadna Franco, Carolina Frank, M. Garcia, Bobby Gordon, Jinquiu Guan, Chris Ha, Bill Hebert, K.H. Hollis, Ishmael Houston-Jones, Ashley Hunt, Bongho Kim, Janna Meiring, Alex Miles Younger, M. Murugesan, Blake Nellis, Inna Pavlichuk, S. Peters-Lazaro, Daniela Ponieman, Margie Pratt, Alan Ptashek, Ruth Pulgram, Kathryn Raines, Rocco Redondo, Sophia Rog, Paul Rogé, K. Salcines, Urs Schmid, Chris Schwarz, Robbyn Scott, Mark Shaw, Urs Stauffer, Martin Streit, Gina T'ai, Goda Trakumaite, Miranda Tufnell, T. Turay, Sören Wacker, Andrew Wass, Yeong Wen Lee, Rebekah West, Geoff White, D. Wickremesinghe, S. Woods., Sejin Yang, Sarah Young, Michael Yu, Kim Zumpfe, Jurg Zurmhule.