Vol. 43 no. 1 Winter/Spring 2018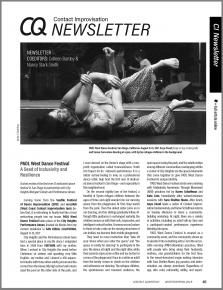 world-wide news & views
online onlyin print and online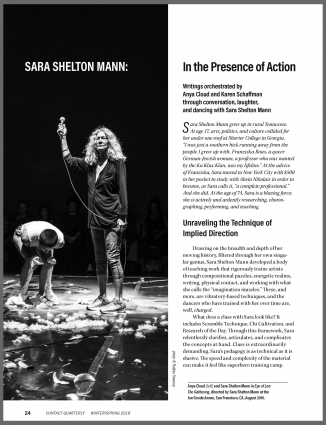 read articles from the print publication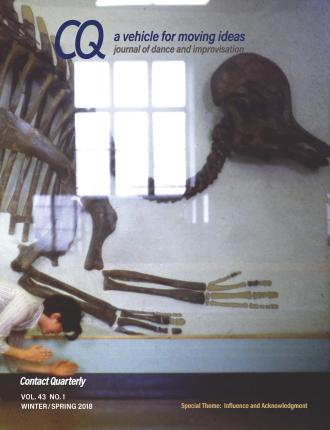 Contact Quarterly Volume 43 No. 1
Winter/Spring 2018
Influence and Acknowledgement

SPECIAL THEME:

INFLUENCE and ACKNOWLEDGMENT


3
Editor Notes
3
"Causing it only a little"
by Nancy Stark Smith
5
Returning
by Lailye Weidman
4
Letters to

CQ

5
Tattered Palimpsest (poem)
by Efadul Huq
8
Shelf Life — publications received
9
Transitions
9

Trisha Brown:

At the Trisha Brown Memorial

by Vicky Shick, Carolyn Lucas, and Diane Madden
10

Falling and Flying with Trisha

by Eva Karczag
10

Country Dance –

a 1971 review by Deborah Jowitt
12
Remembering Robert Davidson

by Frank Dauer, Amy Kaplan, Jim Knapp, Theresa Moriarty, and Kris Wheeler

13
Diane Torr, a Remembrance

by Paul Langland

14
a proposal: epilogue 1034, ep. #62 (poem)
by lily bo shapiro
14
Moving Forward, Looking Back
by Phoebe Ballard
15
Untitled Grief
(this is not a memorial for Diane Torr)
by Doran George
19
Real-Time Authorship
Experiencing Is the Work
by Chrysa Parkinson and Romain Bigé
24
Sara Shelton Mann: In the Presence of Action
by Anya Cloud, Karen Schaffman, and Sara Shelton Mann
30
Everything Ourselves
Feminism, Collectivity, and Dance
an interview with Lyn Neeley and Linda Rose of the
Wallflower Order
by Olive McKeon
34
Mapping Lineage
conceived and collected by Tamara Ashley and Julie Nathanielsz
36
The Politics of Mutuality
a conversation with Steve Paxton at the kitchen table
with Nancy Stark Smith for

CQ

39
Still Moving—Contact Improvisation shoptalk & dialogue
CI (embodied) interrogates its own history
by Karen Nelson
44
Essentials—Basic CI Principles & Practices
Teaching, Mindfulness, Presence, and (Contact) Improvisation
by Ishmael Houston-Jones
45
CI Newsletter—Contact Improvisation news & views
70
Dance Map Directory—a dancer's guide to resources worldwide
76
Kyoko Hayashi
Hiroshima/Nagasaki Memorial Speech
excerpt of a talk given by Eiko Otake
Go to

CQ

Unbound for further subscriber-exclusive writings related to this issue's content:

Between the Cracks Between the Cracks :

Interview with Diane Torr on gender & sexual identity in the new dance/performance scene




by Paul Langland (1996)


Letter to Trisha Letter to Trisha

by Steve Paxton (1995)




PLUS EXPANDED TRANSCRIPTS OF:


The Politics of Mutuality The Politics of Mutuality :

a conversation with Steve Paxton and Nancy Stark Smith


Everything Ourselves: Feminism, Collectivity, and Dance Everything Ourselves: Feminism, Collectivity, and Dance

interview with members of the Wallflower Order

by Olive McKeon
Contributor Notes
Contributor notes: Vol. 43 no. 1
Tamara Ashley is a dance improvisation artist, teacher, and researcher based in the UK. Her work has been published in the Journal of Dance and Somatic Practices, Choreographic Practices, and Contact Quarterly.
Phoebe Ballard is a mover, maker, teacher, and writer hailing from New Jersey. In May 2018 she will receive her BFA in Dance from the University of Illinois, continuing to question, reimagine, and fill boundless amounts of empty studio space and notebook paper wherever she may go.
Romain Bigé practices philosophy and dance. A philosophy teacher in Angers, France, he recently completed his PhD dissertation titled "Sharing Movement: A Philosophy of Gestures with Contact Improvisation." Also, he enjoys rolling on the ground. cargocollective.com/sharingmovement
Anya Cloud is from Alaska and is currently based in California. Collaboration is central to her work. In addition to her own work, she performs for Sara Shelton Mann. Anya teaches and performs CI, improvisation, and contemporary dance nationally/internationally. She also teaches in Dance Studies at CSU San Marcos, co-directs PADL West, and is training in the Feldenkrais Method®. Anya cares deeply about people and believes in the radically transformative power of dance. www.anyacloud.com
Doran George, PhD, is a cultural historian writing on sexual culture, avant-garde dance, and performance art. Doran is also a performance artist and choreographer who deconstructs sociopolitical identity categories, stages work that builds micro-communities, and cultivates radical practices of intimacy. George's artwork and scholarship is represented in art books, Oxford University Press anthologies, and journals. They lecture in Dance, Disability Studies, and LGBTQ Studies, and teach experimental performance and erotic empowerment in art and sex-positive contexts.
Ishmael Houston-Jones: choreographer, author, performer, teacher, and curator. His improvised dance and text work has been performed in NYC and internationally. He and Fred Holland shared a New York Dance and Performance "Bessie" Award for Cowboys, Dreams and Ladders. He was awarded his second Bessie for the revival of THEM, his 1985/86 collaboration with writer Dennis Cooper and composer Chris Cochrane. His most recent Bessie was awarded in October 2017 for Variations on Themes on Lost and Found: Scenes from a Life and Other Works by John Bernd.
Efadul Huq is a poet and an artist, studying urban and regional planning at the University of Illinois, Urbana-Champaign.
Olive McKeon is a dancer and researcher from Northern California. She completed her PhD at the University of California, Los Angeles, writing a dissertation on the intersections between political economy and modern/postmodern dance history in San Francisco. She currently teaches in the Critical Studies program at the California College of the Arts.
Karen Nelson, dance explorer, teacher, maker, performer, author/contributor to Dancing with Dharma and CQ, began dancing CI in 1977. She co-started DanceAbility, Breitenbush Jam, Diverse Dance Research Retreat, Image Lab, and currently a "mini-school" called Dance Sensoria, among other projects. www.explomov.weebly.com
Born in Japan, Eiko Otake is a New York–based movement artist who, for 40+ years, has performed worldwide with her partner as Eiko & Koma. In 2014, Eiko directed and performed her solo project A Body in Places. She collaborated with historian/photographer Bill Johnston in creating a photo project, A Body in Fukushima. In November 2017, Eiko presented full-day performances at three Metropolitan Museum of Art locations using a seven-hour video created from the photos taken in Fukushima. www.eikoandkoma.org
Chrysa Parkinson is a dancer living and working in Stockholm. She is a professor and researcher at Stockholm University of the Arts. Her focus is the performer's perspective in experimental art practices. Publications include "The Dancer as Agent Collection" and "Self-interview on Practice," available online. Chrysa has been performing internationally for the past 35 years as a dancer, with great pleasure in the company she keeps.
Steve Paxton was an inveterate contactor who is interested in improvisation.
Karen Schaffman: dance artist, professor, presenter-curator, Feldenkrais® practitioner. Dancing for me is a transformative and transgressive force for self-awareness and political change. I graduated from EDDC Arnhem (1991) and earned my PhD at UC Riverside (2001), with my dissertation on Contact Improvisation and identity. Since then I've been cultivating Dance Studies at California State University, San Marcos. I co-founded and collaborated with Lower Left (1994–2006) and continue to support artists and community as co-director of PADL West.
lily bo shapiro is from New York City. Bo's current projects take up residence in the shifting constellations of archive, elision, pleasure, and the strangely intimate (intimately strange).
Sara Shelton Mann, choreographer, founded and directed the performance group Contraband in San Francisco from 1984 to 1996. Among her many awards are a Guggenheim Fellowship, seven Isadora Duncan Awards, a Lifetime Achievement Bay Guardian Award, and a Foundation for Contemporary Arts Award. Her training is Movement Alchemy, and her performance work is a platform for collaboration and research in consciousness. www.sarasheltonmann.org
ADDITIONAL ISSUE CONTRIBUTORS:
MaoYuan, transmediale, Bill Arnold, Colleen Bartley, Nicole Bindler, mayfield brooks, Katie Bull, Cathie Caraker, Remy Charlip, Benjamin Cheney, Alexis Convento, Cristina Crippa, Frank Dauer, Margit Galanter, Lois Greenfield, Keith Hennessy, Jiu Jiu, Jesse Johnson, William Johnston, Deborah Jowitt, Amy Kaplan, Eva Karczag, Krissy Keefer, Zack King, Jim Knapp, Katja Kolcio, Rob Kunkle, Petra Kuppers, Phyllis Lamhut, Paul Langland, Carolyn Lucas, Diane Madden, yuenjie MARU, Mark McBeth, Martina Meijer, Theresa Moriarity, Nhu Nguyen, Jessica Nicoll, University of Roehampton, Uldis Ohaks, Jim Orjala, Wendy Perron, Tyler Resch, Monika Rittershaus, Urs Schmid, Vicky Shick, Dawn Siebel, Marty Sohl, Robbie Sweeny, Felipe Tofani, Andrew Wass, Cathy Weis, Yeong Wen Lee, Kris Wheeler, Mandoline Whittlesey, Leah Woods.