Vol. 45 no. 1 Winter/Spring 2020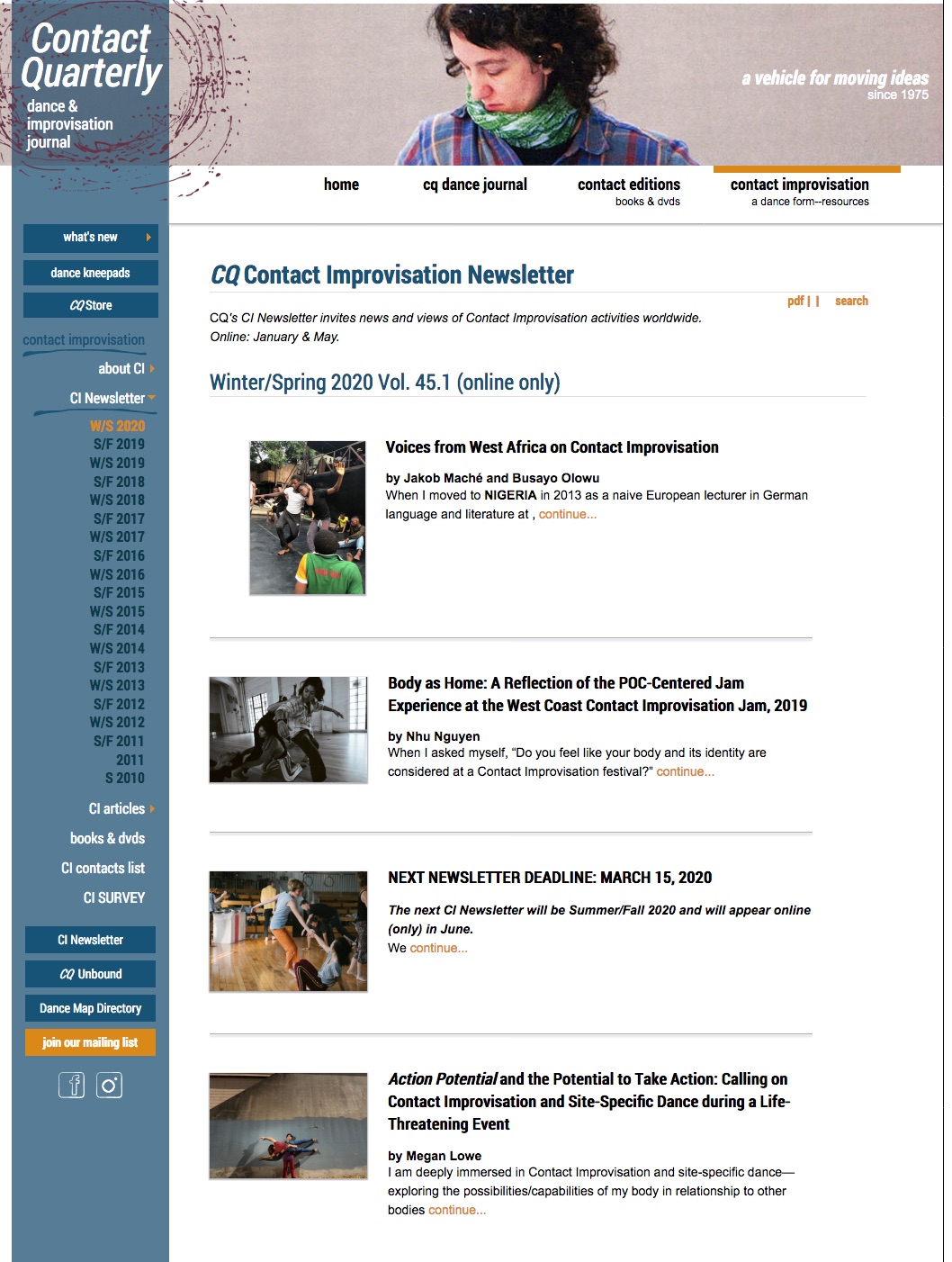 world-wide news & views
online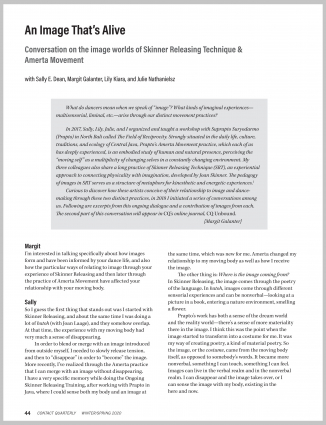 read articles from the print publication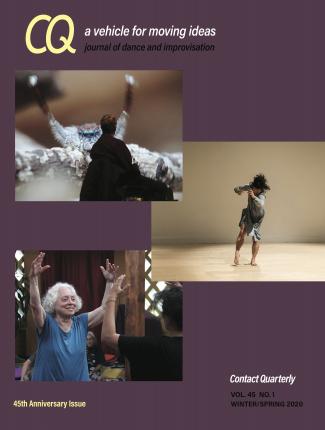 103 pp.
Contact Quarterly Volume 45 No. 1
Winter/Spring 2020

6
Editor Notes
6
Mavis & Bunhead in Zero G
by Melinda Buckwalter
7
Throwing the Bouquet: part one
by Nancy Stark Smith
8
Contact Editions
10
Shelf Life—publications received
12
Letters to

CQ

16
Transitions
Aileen Crow, Janis Claxton, Robin MacRostie
18
Thank You Corner
20
Noise | Observation
Thoughts from

Direct Path to Detour

by Takahiro Yamamoto
24
A Free Consultation
by Simone Forti
26
So Here You Are, Against All Obstacles...
A talk given at Culturgest in Lisbon, 2019
by Steve Paxton
34
The Future Has Always Been Black
A dancing-word manifesto
by Thomas F. DeFrantz/SLIPPAGE
40
As I Project into Your Future, You Sit in My Past
A fictional double interview on the performance
project

You are here

by Ilana Reynolds and Sabrina Huth
44
An Image That's Alive
Conversation on the image worlds of Skinner Releasing Technique and Amerta Movement
by Sally E. Dean, Margit Galanter, Lily Kiara, and Julie Nathanielsz
51
Self and Other, SelfOther
Conversation with Bonnie Bainbridge Cohen
by Nancy Stark Smith, for

CQ

57
Bringing Somatics into Human Rights Activism
Somatic accompaniment for relatives and victims of
political violence, disappearance, and land displacement
in Guerrero, Mexico
by Diana Lara, Dulce Trejo, and Marcela Ponce
61
Orienting Beyond Gravity
Training with Kitsou Dubois
by Toni Craige and Adam Dipert
66
Still Moving—Contact Improvisation shoptalk & dialogue
Moving and Thinking with Fascia
Interview with Ray Chung on the intersections of fascia
and Contact Improvisation training
by Kevin O'Connor
72
Essentials—Basic CI Principles & Practices
Water Play
Change Gravity
by Petra Kuppers
73
CI Newsletter online (Preview)—Contact Improvisation
news & views
91
Dance Map Directory—contemporary dance & improvisation resources worldwide
94
Chrysanthemum Square: Transmission Two
Another Rabbit Monologue
by Karinne Keithley Syers
Go to

CQ Unbound

for subscriber-exclusive writings
related to this issue's content:
So Here You Are, Against All Obstacles... So Here You Are, Against All Obstacles... : A talk by Steve Paxton at Culturgest in Lisbon, 2019

[full transcript]
Contributor Notes
Contributor notes: Vol. 45 no. 1
Bonnie Bainbridge Cohen is a movement artist, researcher, educator, therapist, and developer of the Body-Mind Centering® approach to movement and consciousness. Her work has influenced the fields of dance, bodywork, yoga, body psychotherapy, infant and child development, and many other body-mind disciplines. She is the author of three books and numerous videos on dance, embodied anatomy, embryology, and working with children with special needs. www.bodymindcentering.com.
Ray Chung is a teacher, performer, and engineer who has a passion for dancing which he likes to share with other people.
Toni Craige is an MFA candidate in dance at Smith College. Her work sources contact improvisation and Body-Mind Centering®. Her thesis research (choreographed and written) is partly inspired by the powerful perceptual shifts she experienced while training with Kitsou Dubois. She's excited to be teaching semester-long courses in improvisation and contact improvisation in the Five Colleges in Western Massachusetts this school year. www.tonicraige.com
Thomas F. DeFrantz directs SLIPPAGE@Duke:Performance|Culture|Technology; explores emerging technology in live performance. Believes in our shared capacity to do better and engage our creative spirit for a collective good that is anti-racist, anti-homophobic, proto-feminist, and queer-affirming. Contributed concept and voice-over for permanent installation on Black Social Dance at Smithsonian Museum of African American Life. Teaching: Lion's Jaw Festival; Movement Research; ImPulsTanz; New Waves Institute; Hampshire College, Stanford, Yale, MIT, NYU, University of the Arts, Duke. Founding member, Collegium for African Diaspora Dance. www.slippage.org
Adam Dipert is a Postdoctoral Research Associate at Arizona State University and works at Duke and North Carolina State Universities. His career as a circus performer continues nationwide. Adam's study of zero gravity movement and perception are converging in a number of forms, including conference presentations, collaborations, training, and writing. Recently, his research has been directed toward philosophical implications of cognitive embodied development in gravitational fields. He looks forward to sharing his findings soon. www.adamdipert.com
Kitsou Dubois makes dreamlike pieces—in situ and on film—and video installations. Since 2016, as an artist-researcher, her aim has been to share her experience with art experts and with sound and visual experimental artists and researchers. She wants to develop a formal, technical, and collective experimentation and body knowledge between research, training, and creation. Kitsou works interdisciplinarily in digital arts, dance, and circus arts to question the possibility, real or virtual, of re-creating the weightless condition for the audience. www.kitsoudubois.com
Sally E. Dean (USA/UK/NO) has been a performer, choreographer, teacher, and somatic practitioner for 20 years throughout Europe, Asia, and the USA. Sally leads the collaborative Somatic Movement, Costume & Performance Project (2011), designing Somatic Costumes™ that generate psychophysical awareness and performances. Sally is a research fellow at Oslo National Academy of Arts. www.sallyedean.com
Simone Forti is a dancer, artist, and writer, who studied dance improvisation with Anna Halprin and composition, with a focus on John Cage, with educator/musicologist Robert Dunn. Since the 1980s, Forti has been weaving movement and words together. Taking the news as subject matter, she calls these improvised performances News Animations. Forti has published two books and is represented by The Box Gallery, LA.
Margit Galanter is a dance poet living on Huichin—occupied Ohlone land known as California, East Bay. In the past several years, Margit has been developing movement nature culture projects and the vivid grove—a live art organism for moving, learning, creative evolution, and collective liberatory practices. www.vividgrove.org
Sabrina Huth (GER) and Ilana Reynolds (FR/US) are freelance dance artists who have never met in the flesh. They have been collaborating since July 2018, when they were supposed to work together at the 6th IDOCDE Symposium at ImPulsTanz Festival in Vienna. One of them did not make it. Since then, they collectively investigate and perform on topics of absence, fiction, and the in-between. https://imaginedchoreographies.com/
Karinne Keithley Syers is a writer and teacher whose work spans plays, songs, sound, dance, animation, video, bookmaking, essay, and points in between. Web treasury at fancystitchmachine.org
Lily Kiara makes dance performances, and was taught and trained in European countries, the USA, Australia, and Indonesia. Her work comes to form through a refined and fierce dedication to improvisation. Poetry, stillness, and urgency are at the heart of her work. A singer-songwriter, she performs solo and with her band, The RIVER. www.lilykiara.nl
Petra Kuppers is a disability culture activist, a community performance artist, and a professor at the University of Michigan. She lives in Ypsilanti, Michigan, where she co-creates Turtle Disco, a somatic writing studio. Her current work focuses on ecosomatic approaches to performance and writing.
Diana Lara is a choreographer and performer certified in developmental movement by the School of Body-Mind Centering®. She is on faculty at City College of San Francisco, Older Adults Department. She holds a degree in medicine and an MS in population and health from Universidad Autónoma Metropolitana, Mexico. www.dianalara-somatics.com
Julie Nathanielsz is a movement artist, teacher, and initiator of and collaborator on numerous creative projects in a diversity of communities of movers since 1996. She lives in Ithaca, New York. julienathanielsz.com
Kevin O'Connor is an artist working as a choreographer, dancer, improviser, and biodynamic cranial sacral practitioner. Originally from Ontario, he is now based in the Bay Area. His PhD performance research examines anatomies, body performance capacities, interventions, and imaginations in relation to science studies, including the bio-cultural tissue called fascia. www.ecologicalbodying.com
Steve Paxton writes and thinks about dance at a table. By a window. On a farm in Vermont, USA.
Marcela Ponce is a Feldenkrais practitioner, dancer, and choreographer. She holds an MFA in Dance from the University of Quebec at Montreal and a bachelor's degree in Choreography from the National Institute of Fine Arts in Mexico. She explores the link between Feldenkrais and the creative process in dance.
Dulce Trejo is a somatic movement educator and performer. She holds an MFA in Performing Arts Studies from the Free University of Brussels, and she is a faculty member at the Universidad Nacional Autónoma de México as well as at the Universidad de Londres, Theater Department.
Takahiro Yamamoto is an artist and choreographer based in Portland, Oregon. He has produced original performances and visual artworks nationally and internationally. He is a graduate of Pacific Northwest College of Art, with an MFA in Visual Studies. He co-directs the performance company madhause with Ben Evans and is part of the Portland-based performance support group Physical Education (P.E.) with Allie Hankins, keyon gaskin, and Lu Yim. takahiroyamamoto.com
ADDITIONAL ISSUE CONTRIBUTORS:
Robert Altman, Tamara Ashley, Colleen Bartley, Michele Beaulieux, Romain Bigé, Melinda Buckwalter, Olowu Busayo, Mark Castrantas, Florence Corin, Aileen Crow, Levi Dershowitz, Katy Dymoke, c.e.m–centro em movimento documentaçao, Sofia Engelman, Defne Erdur, Ester Eva Damen, João Fiadeiro, Federico Finamore, Dance Generators, Jon Gibson, Klaus Gigga, Zero Gravity Corporation, Matthew Gregory Hollis, Thomas Greil, Lanny Harrison, Kristin Horrigan, Juan Ignacio Serradilla Mazuelas, Marilyne Jaques, Jurij Konjar, Jojo Lamboy, Lynn Lane, Nita Little, Charlie Llewellin, Megan Lowe, Jakob Maché, Vera Marmelo, Marjean McKenna, Dmitri Medvedev, Asociación Mexicana de Abogados del Pueblo, Tibi Moravcik, Annette Nathalia, Lisa Nelson, Nhu Nguyen, Alexandra Nikolaeva, Cristin Norine, Adriana Pegorer, Mary Peterson, Maurice Ramirez, Alba Sagarra, Paula Sager, Kim Sargent-Wishart, Sharon Siskin, Lily Sloan, Catherine Smith, Charlotte Spichalsky, Nancy Stark Smith, Suprapto Suryodarmo, Christina Svane, Petra Szalay, Kate Tarlow Morgan, Illuminate Theatre, Robert Tobey, Jason Underhill, Angelo Vasta, Leilani Weis, Yeong Wen Lee, Carol Zahner, Neca Zarvos, Elizabeth Zimmer.