Vol. 43 no. 2 Summer/Fall 2018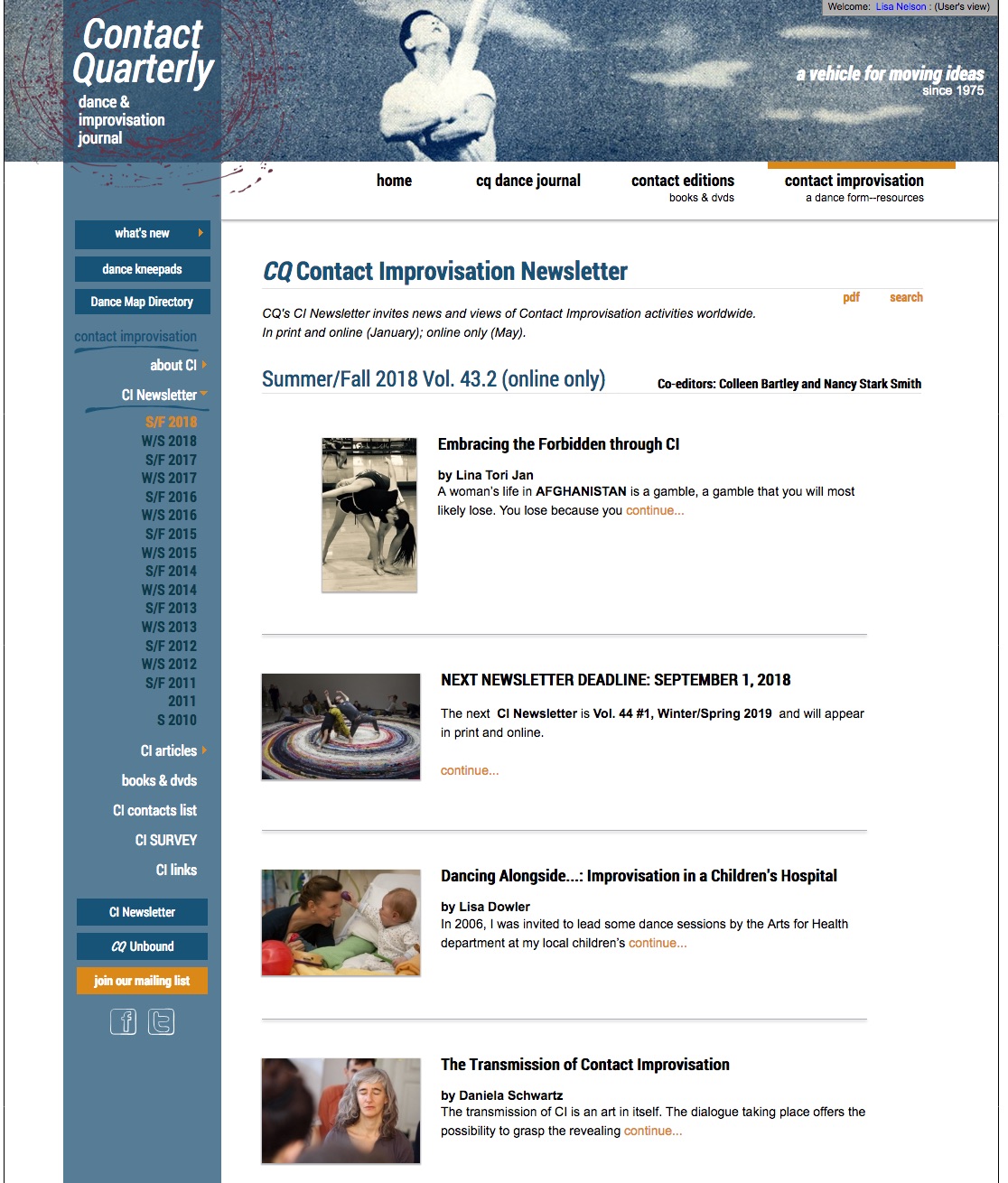 world-wide news & views
online onlyin print and online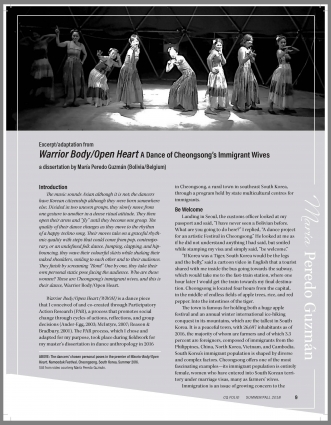 read articles from the print publication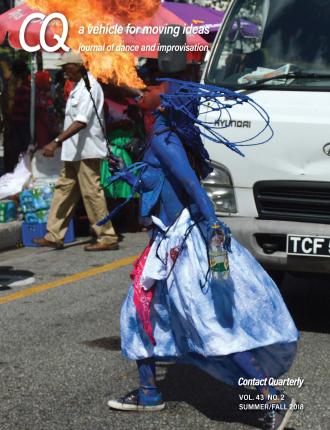 70 pp.
Contact Quarterly Volume 43 No. 2
Summer/Fall 2018
Folio 3: Welcome to Choreomundus
5

CQ

FOLIO 3
WELCOME TO CHOREOMUNDUS

curated by Melinda Buckwalter and Deborah Williams

6
Curator Notes
7
The Choreomundus International Master
Dance Knowledge, Practice, and Heritage
text from the Choreomundus website arranged
by Deborah Williams
9
Warrior Body/Open Heart
A Dance of Cheongsong's Immigrant Wives
by María Peredo Guzmán
13
Embodied Research of the Invisible Regulations in
the Gaga Community and in Its Movement System
About the Nature of a Semi-Inscribing Dance Practice
by Kinga Szemessy
17
Everyday Infinities
The Micro-Politics of Being Affected at the
Wagah-Attari Border
by Urvi Vora
21
Reimagining, Reclaiming, and Continuity
Traditional Masquerade in Trinidadian Society
by Kim-Lee Campbell
25
The Black Dancing Body as a Measure of Culture
a performative lecture
by Brenda Dixon Gottschild
32

Rage, Walk, Rise

by Alexx Shilling with Alison D'Amato
34
CONTACT IMPROVISATION INTERSECTIONS
34
Frictions and Illuminations
by Nancy Stark Smith
35
On CI Intersections
A Question from

CQ,

and a Round of Responses
by Keith Hennessy, Ann Cooper Albright, Geneviève Cron-Riger, Daniela Schwartz, Kent Alexander, Zach Arfa, Taja Will, Kathleen Rea, and mayfield brooks
40
Touch&Play
a bit of history and perspective
by Daniel Hayes
41
What Is a CI "Purist"?
a Facebook thread from the CI Facilitators Worldwide Network & Discussion Group
initiated by Colleen Bartley
62
Dance Map Directory—a dancer's guide to resources worldwide
67
An Intimate Eye into the Edge
photographic essay
by Anna M. Maynard
HIGHLIGHTS of online CQ Contact Improvisation Newsletter:
An expanded version of "What is a CI 'Purist'?"
Further responses to "On CI Intersections"


Contributor Notes
Contributor notes: Vol. 43 no. 2
Kent Alexander is a playwright/consultant whose work explores power and powerlessness. A social justice consultant, Kent's clients include Earthdance, Cooley Dickinson Health Center, and Communities That Care of Franklin County, Massachussetts.
Zach Arfa is a sophomore at Oberlin College, but originally hails from Shelburne Falls, MA. He thrust himself pelvis first into Contact last year and hasn't surfaced since.
Colleen Bartley is a disabled dance artist based in London, England. She teaches, facilitates, documents, and organizes CI events.
mayfield brooks improvises while black and is currently based in brooklyn, ny; works as an artist scholar, cultural worker, farmer & movement-based performance artist; and is a 2017 artist in residence at Movement Research.
Kim-Lee Campbell holds an International Master in Dance Knowledge, Practice, and Heritage, Choreomundus; and a BFA from the Edna Manley College School of Dance, Kingston, Jamaica, where she is currently an Adjunct-Lecturer. Campbell's innate desire to understand the connection of the body, mind, and spirit in the creation and safeguarding of self/identity/histories informs her experimental choreographic work. She is involved in dance education through her pioneering YAAD Arts, a development project offering arts courses to underserved communities in August Town, Kingston, Jamaica. kimleejcampbell.wixsite.com/mysite/cv
Ann Cooper Albright is Professor and Chair of the Dance Department at Oberlin College. Her latest book, How to Land: Finding Ground in an Unstable World will be out in the fall.
Geneviève Cron-Riger is a dance therapist; former research engineer; and workshop facilitator in dance, theatre, and improvisation. She creates experimental settings to develop relational and physical skills.
Brenda Dixon Gottschild is the author of Digging the Africanist Presence in American Performance: Dance and Other Contexts; Waltzing in the Dark: African American Vaudeville and Race Politics in the Swing Era; The Black Dancing Body: A Geography from Coon to Cool; and Joan Myers Brown and the Audacious Hope of the Black Ballerina: A Biohistory of American Performance. A self-described anti-racist cultural worker utilizing dance as her medium, she is a freelance writer, consultant, performer, lecturer, and Professor Emerita of dance studies at Temple University. www.bdixongottschild.com and facebook.
Daniel J. Hayes (M.D., Ph.D.) is a social entrepreneur, eco-anarchist, and practical idealist. He's been playing, meditating, and conversing CI >15 yrs. and actively sharing his curiosity >10 yrs. He is the founder of the Touch&Play Project.
Keith Hennessy makes dances, performances, texts, rituals, and relationships. Born in Canada, living in San Francisco since 1982, and touring extensively, Keith started dancing CI in Montréal in 1979. He's still at it critically, playfully.
Anna M. Maynard is an emerging artist in the fields of photography and contemporary modern dance. She aims to give careful, honest attention to those she photographs—to expose the beauty of the person in front of her with authenticity and heart. Each image is an imprint, a moment in time, suspended. www.annamaynard.com
María Peredo Guzmán was born in South America and has lived in Europe since 2011. She is a performing artist and holds a master's degree in dance anthropology. Her main concerns during these years have been related to migration, policies of migration in diverse cultures, and the embodiments of culture in transnational communities. During 2017–18, her danced conference Embodiments of Migracy visited migration museums, exhibitions, and symposia in Germany, Norway, England, Malta, and Bolivia. jouons9.wixsite.com/nasa; jouons9.wixsite.com/mariapg/home
Kathleen Rea teaches CI through the lenses of the Axis Syllabus and consent. She is a psychotherapist & author (The Healing Dance). Kathleen produces the Toronto Wednesday Dance Jam, Contact Dance International Film Festival, and CI Consent Culture blog.
Daniela Schwartz (Argentina/France) is a nomad artist actively involved in the practice, performance, and teaching of Contact Improvisation, Composition & Improvisation since 1998.
Alexx Shilling is committed to the investigation of movement and its potential to uncover alternative narratives and allow us to remember. Her choreography and experimental films have been presented nationally and internationally. She teaches at Loyola Marymount University in Los Angeles and co-curates the Hi, Solo performance series and a class series: practice makes practice. alexxmakesdances.com
Kinga Szemessy is currently a PhD candidate at the University of Theatre and Film Arts in Budapest, Hungary, and a faculty member at the Budapest Contemporary Dance Academy. Due to her educational background in both professional dancing and dance anthropology, she is eager to bridge the gaps between practice and theory, "art" and "life." Connecting to this endeavor, she researches non-conventional bodies displayed on dance stages, including various forms—from inclusive companies to participatory performances.
Urvi Vora is a contemporary dancer and researcher from New Delhi, India. She has recently finished her postgraduate studies in Dance Anthropology, in which her interests revolved specifically around modern rituals, performance of politics, and performative affect. She currently resides in Budapest, Hungary, and remains fascinated by what the body can do.
Taja Will is a Minneapolis-based choreographer and healing justice practitioner. Her work is grounded in improvisation, somatics, and developmental psychotherapy.
Deborah Williams is the UK Coordinator for the Choreomundus programme at the University of Roehampton, London. She is a graduate of Smith College and completed both her MA in Dance Anthropology and her PhD in Dance at the University of Roehampton. Her interests include investigating non-professional dance and dancers, as well as dance ethnography and oral history.
ADDITIONAL ISSUE CONTRIBUTORS:
Richard A Adams, Bill Arnold, Bai Ba Cao, Egil Bakka, Daniel Bear Davis, Romain Bigé, Edo Ceder, Remy Charlip, RoHsuan Chen, Alison D'Amato, Georgiana Gore, Hellmut Gottschild, Andrée Grau, Loren Groenendaal, Gediminas Karoblis, Richard Kim, Dr. Felföldi László, yuenjie MARU, Jaamil Olawale Kosoko, Amar Puri, Leila Romaya, Malaika Sarco-Thomas, Anna Speck, Irene Sposetti, Martha Swope, Nanne Sørvold, Diana Takutdinova, University of Roehampton, Ronja Ver, Andrew Wass, Yeong Wen Lee, Sara Zolbrod.