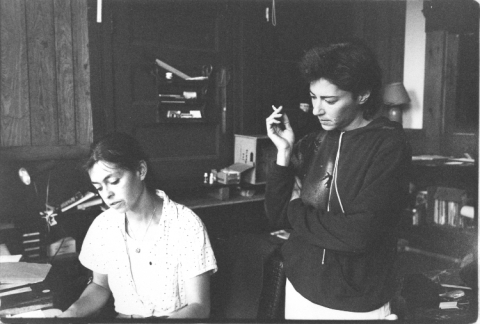 Nancy Stark Smith & Lisa Nelson make an issue of Contact Quarterly in Northampton, MA, 1984. Photo © Bill Arnold.

Click on the yellow Donate button to fill in your own amount. Any amount
is greatly appreciated. All donations are tax-exempt to the full extent of the law. Thank you.



CQ's THANK YOU CORNER
payments accepted above!


"If either Contact Quarterly or Contact Improvisation has had a role in your life, ask yourself—what if there was no CQ? Please respond to this Annual Appeal and make a difference at this crucial juncture in the life of Contact Quarterly."
–Marlene Wong, head of Werner Josten Performing Arts Library, Smith College; CQ Advisory Board
"CQ is one of the few publications that brings us writing directly from the bones and sinews of dance, illuminating the practice as we do and understand it. Please support us as we continue to accompany you on your own dance journey, and as we re-envision our future. Your support is a critical part of the conversation."
–Lesley Farlow, dance artist and movement educator, CQ Advisory Board

Directors/Editors
Lisa Nelson
Nancy Stark Smith
CQ Staff
Coeditor: Melinda Buckwalter
Editorial Associate: Meredith Bove
Contributing Editors: Colleen Bartley, Simone Forti, Karen Nelson, Andrea Olsen, Steve Paxton, Christina Svane, Lailye Weidman
CI Newsletter Coeditor: Colleen Bartley
Graphic Design: Jill Apolinario
Office/Operations Mgr:
Jerry Mandel
Ads/Marketing Mgr:
Sofia Engelman
Products/Shipping Mgr:
Dawn Siebel
Webmaster: Daniel Lepkoff
CQ Advisory Board
Chris Aiken
Shaina Cantino
James Dowling
Lesley Farlowe
Marlene Wong
Marlon Barrios Solano (consultant)
Sara Smith (consultant)
Contact Collaborations Board of Directors
Daniel Lepkoff
Lisa Nelson
Steve Paxton
Nancy Stark Smith
Elizabeth Zimmer



Contact Collaborations, Inc., is CQ's nonprofit 501(c)(3). Your donation is tax-deductible.




Thank you to all who made our 2018/19 fundraising season a success.
And thank you now for carrying CQ into the future.
Celebrate CQ in our last print issue!
One Time Opportunity for our readers, donors, advertisers, all!
Contact Quarterly's upcoming issue, Volume 45.1, will celebrate 45 years of bringing the dancer's voice to the page (our 103rd publication!). It will also be the last issue that CQ will publish as a biannual print periodical. We will be shifting our focus toward expanding our current online publication, CQ Unbound, into a fully online journal with fresh postings year-round. We also expect to produce sporadic (non-periodical) collections of writings in print format.
The CQ Thank You Corner
For our last print issue, we invite you to share a short message of "thanks" to CQ as we conclude this chapter of the journal.
CLICK HERE FOR FULL DETAILS ON HOW TO PREPARE YOUR "THANK YOU"
We are asking for a contribution of $25 or more to include your "thank you" in our pages and social media posts to cover administrative costs and support CQ's continuity through this transition!

Submit payment by using the donation links above, or send a check by mail with the memo "CQ Thank You Corner" to:
Contact Quarterly
P.O. Box 603
Northampton, MA 01061 USA
With your support, we can continue to provide unparalleled primary source materials for dance inspiration and scholarship. Your 100% tax-deductible donation, of any amount, facilitates this critical work in the field of dance.
Thank you for your support on this special anniversary!
Warm regards from the CQ team