Performance/Workshop/Conference Project
A project of Contact Collaborations, Inc. that organizes symposia devoted to the investigation, dissemination, and performance of contemporary movement work.
Ongoing Projects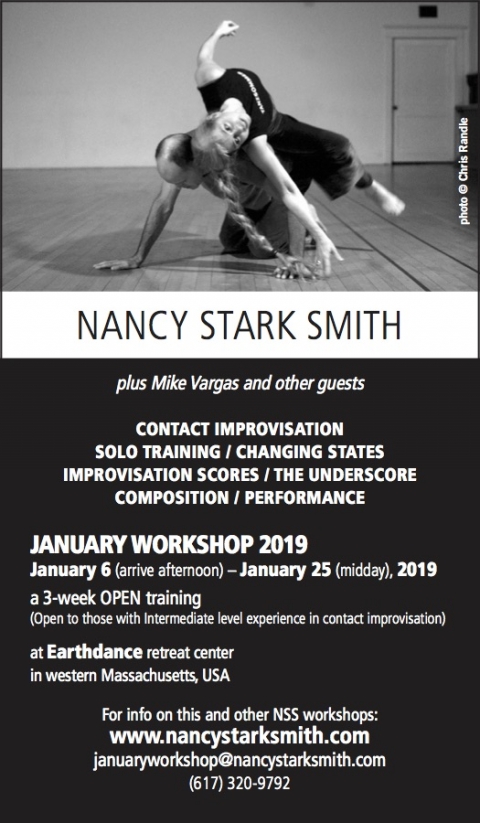 JANUARY WORKSHOP 2019
a 3-week workshop
January 6 – 25, 2019

with NANCY STARK SMITH
plus Mike Vargas and other guests
Contact Improvisation
Solo Training • Changing States
Improvisation Scores • The Underscore
Composition • Performance
The January Workshop is a 3-week residential workshop taught by Nancy, specifically designed to develop our practice of Contact Improvisation (CI) and other related improvised dance work.
Schedule:
The January Workshop will meet Monday–Friday, 10 am to 5:30/6 pm, at Earthdance, in Plainfield, MA (a beautiful dance retreat center located 35 minutes west of Northampton, MA, in the Berkshire Mountains), and in town at an Aikido dojo. There will be some evening and weekend activities.
Details to be announced on: www.nancystarksmith.com
Contact: Patrick Crowley, workshop coordinator, januaryworkshop at nancystarksmith.com