Vol. 44 no. 1 Winter/Spring 2019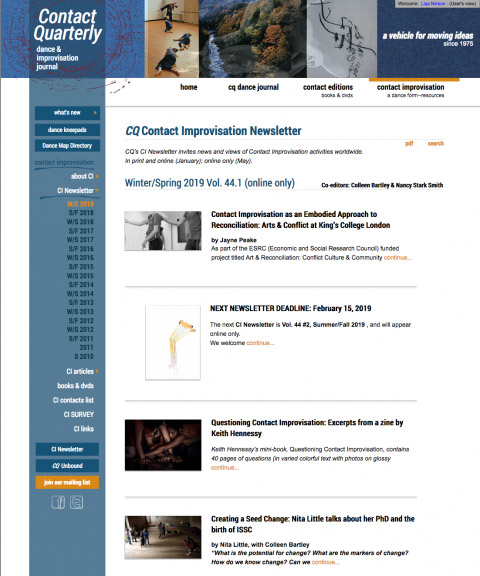 world-wide news & views
online onlyin print and online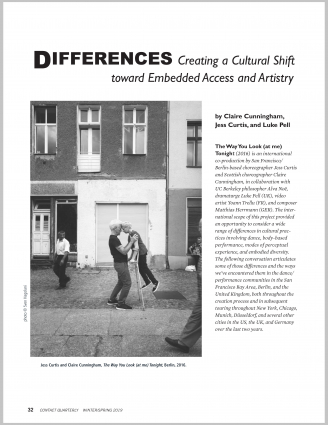 read articles from the print publication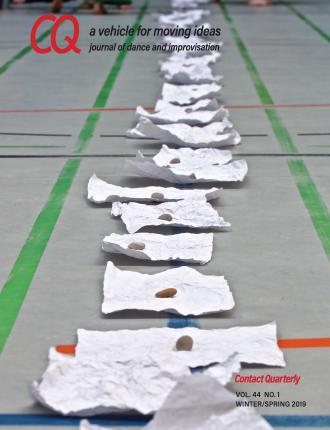 76 pp.
Contact Quarterly Volume 44 No. 1
Winter/Spring 2019

3
Editor Notes
Haunting

CQ

/ Melinda Buckwalter

Intersecting trailheads in

CQ

/ Meredith Bove

4
Letters/Comments
8
Shelf Life—publications received
10
Transitions
Marsha Paludan

(1941-2018)

by Marsha Paludan, Robin Gilmore, and Jacques van Eijden
15
NOTES FOR A LECTURE: Body as Archive
Regarding the Persistent Essential Friction of Gesture, Attention, and Memory
by Bebe Miller
20
Under Seeing
An Approach to Feeling and Sensing Performance
Experiencing works by the BodyCartography Project
by Olive Bieringa, Margit Galanter, Justin Jones, Arwen Wilder, and Asher Edes
28
The Dance of Description
Evolution of a Form
by Christina Svane
32
Differences
Creating a Cultural Shift toward Embedded Access and Artistry

plus:

an excerpt from

The Way You Look (at me) Tonight

Accessibility Handbook
by Claire Cunningham, Jess Curtis, and Luke Pell
38
Commonalities & Distinctions
Body-Mind Centering® & Contact Improvisation
interview with Otto Ramstad
by Grégory Chevalier
43
CI Newsletter—Contact Improvisation news & views
44
Essentials—Basic CI Principles & Practices
How to ParLAY the Dance
by mayfield brooks
46
Still Moving—Contact Improvisation shoptalk & dialogue
46
How the First Rule Brought #MeToo to Contact Improvisation
by Michele Beaulieux
50

#MeToo DISRUPTION at the 2018 West Coast Contact Improvisation Jam

by Cookie Harrist
51
Comments on online CI articles
53
Thank You and Sorry
Framing Goodwill and Self-Awareness
by Amii LeGendre
72
Dance Map Directory—contemporary dance & improvisation resources worldwide
76
Composition
a comment from Steve Paxton
Contributor Notes
Contributor notes: Vol. 44 no. 1
Michele Beaulieux is an identical twin, liturgical dancer, marketing consultant, and advocate against sexual violence. She looks forward to dancing contact improvisation in safer brave spaces. deepenworship.org
Olive Bieringa is a dance maker, somatic movement therapist, and cultural producer originally from New Zealand/Aotearoa, who currently lives in Oslo, Norway. For twenty years, she has been creating dances, films, workshops, and festivals internationally with collaborator Otto Ramstad as the BodyCartography Project. She is a Certified Teacher of Body-Mind Centering®, a graduate of the European Dance Development Center, and holds an MFA in Performance and New Media from Long Island University. bodycartography.org
mayfield brooks's ongoing dance/life project IWB/Improvising While Black takes many forms. mayfield lives in New York City and is a 2017–19 Movement Research AIR (Artist in Residence).
Grégory Chevalier is a teacher, performer, and organizer. Originally from France, he moved to Hungary to start his dance career in 2005. He teaches CI and improvisation based on somatics—mainly Body-Mind Centering—thanks to a close collaboration with Kálmán Ferenc. He has been organizing the Hungarian Contact Improvisation Festival since 2017.
Claire Cunningham is a performer and creator of multidisciplinary performance based in Glasgow, Scotland. One of the UK's most acclaimed and internationally renowned self-identifying disabled artists, her work ranges from intimate solo pieces to large ensemble works, such as 12 for Candoco Dance Company and Ménage à Trois, created in partnership with the National Theatre of Scotland. www.clairecunningham.co.uk
Jess Curtis makes, watches, teaches, and writes about body-based performance in San Francisco, Berlin, and internationally. He is the artistic director of Jess Curtis/Gravity and holds a PhD in Performance Studies with a focus in experimental, body-based performance from UC Davis. www.jesscurtisgravity.org
Asher Edes lives in Minneapolis and practices Don't You Feel It Too?, a new kind of movement meditation that integrates healing, art, and activism.
Margit Galanter is a movement investigator and dance poet living in California's East Bay. Margit has been focusing lately in two realms: Cave Forms—a long-term exploration in performance, fecundity, and the environment; and the vivid grove—an organism for moving, learning, creative evolution, and collective liberatory practices. She is dedicated to the prisms of cultural inquiry, conversation, perceptual vibrancy, and nourishing life. www.physicalintelligence.org
Robin Gilmore began her recovery from bad ballet training in 1980. Since then, she has been fortunate to study, perform, and teach with many leading lights of post-modern dance, Contact Improvisation, and the Alexander Technique. Marsha Paludan was the fork in her road. www.chesapeakealexander.com
Cookie Harrist is a dance artist based in San Francisco. Her work bridges gaps between contact improvisation, contemporary dance, queer performance art, and vocal performance. She teaches at ODC and CounterPulse and performs for Joe Goode, Sara Shelton Mann, Kim Epifano, NAKA Dance Theater, Larry Arrington, and others.
Justin Jones is a Bachelor of Fine Arts, a choreographer, a composer, a dancer, a dance educator, a friend, a grandson, a Jones, a McKnight Fellow (2007), a partner, a podcast producer, a preschool teacher, a sibling, a son, and a sound designer. www.mnartists.org/jonesjustin
Amii LeGendre is a longtime choreographer, performer, and teacher of CI and contemporary dance, living in New York's Hudson River valley. She currently researches and performs improvisation with a dance/music improvisation group called Zamboni.
Bebe Miller formed Bebe Miller Company in 1985. She has collaborated with artists who share her studio practice and who taught her what dancing can reveal. Her work has been performed nationally and in Europe and the African continent. She is a Doris Duke Artist and a United States Artists Fellow, has an honorary doctorate from Ursinus College, and was a professor in The Ohio State University's Department of Dance from 2000 to 2016. www.bebemillercompany.org
Fascinated by detail, nuances of time, texture, memory, and landscape, Luke Pell is a maker and curator based in Scotland. Noticing threads that weave between people and place, his work takes form as intimate encounters, poetic objects, installations, and designed environments for physical and virtual spaces. He also works as a dramaturge with other artists, imagining alternative contexts for performance, participation, and discourse that might reveal wisdoms for living. www.lukepellmakes.org
Otto Ramstad is a dance and video artist and Certified Teacher of Body-Mind Centering®. For twenty years he has been collaborating with Olive Bieringa as the BodyCartography Project, creating performances, films, installations, and festivals. His current work, Lineage, looks at learning and how we learn, drawing lines between his learning of experimental dance and somatic practices, specifically Lisa Nelson's Tuning Scores, Steve Paxton's Material for the Spine, Bonnie Bainbridge Cohen's BMC, and his Norwegian cultural heritage. www.bodycartography.org
Christina Svane draws on movement, writing, and the voice to create simple forms for sharing our experience of existence. Besides the Dance of Description, these forms include Danspeech, Moving Body Dreams, The Crystal, and The Fountain. Originally from San Francisco, she now lives in Spain, where she sings, shares her movement forms, and leads a writing group in her friend Daizie's old Moorish house. Some of their writing can be found at Daiziesplace.com.
Arwen Wilder is half of the Minneapolis-based choreographic collaboration HIJACK. They spent fall 2018 teaching and scheming and making dances and working with Lisa Nelson. Arwen would love to perform felt room again sometime and is still living on the nourishment and inspiration from geeking out with BodyCartography on their embryology research last summer. www.facebook.com/hijackdance
ADDITIONAL ISSUE CONTRIBUTORS:
Chris Aiken, Robert Altman, Charlotte Andrews, Zach Arfa, Tamara Ashley, Colleen Bartley, Patrick Beelaert, Romain Bigé, BodyCartography, Melinda Buckwalter, Arye Bursztyn, Barret Carr, Edo Ceder, Lalitaraja Chandler, Jérémie Chetrit, Ann Cooper Albright, Lietje de Haas, Sofia Engelman, Defne Erdur, Rachel Ford, Christos Galanis, Jodie Granger, Sven Hagolani, Rob Hall, Angie Hauser, Keith Hennessy, Henry Street Settlement House, Rebecca Janovic, Georgie Johnson, Krissy Keefer Dance Mission archives, Kerstin Kussmaul, William Lang, Daniel Lepkoff, Rebecca Lepkoff, Nita Little, Mimi Lo, Casey Loomis, Gary Mackender, Jane MacNeil, Malcolm Manning, Manu, Paul Marienthal, yuenjie Maru, Anna Maynard, Olive Mckeon, Gabrielle Teddy Ment, Celia Morris, Karen Nelson, Boris Oicherman, Em Papineau, Patented Photos, Jayne Peake, Basya Petnick, Charlie Rabuel, Peter Raper, Kathleen Rea, Elana Rosenberg, Michal Schorsch, Lily Skove, Sean Smuda, Robbie Sweeney, the Redwoods, Anne-Gaëlle Thiriot, Kate Trapnell, Ben Van Buren, Jacques van Eijden, Caroline Waters, Josie Winship.