Vol. 42 no. 2 Summer/Fall 2017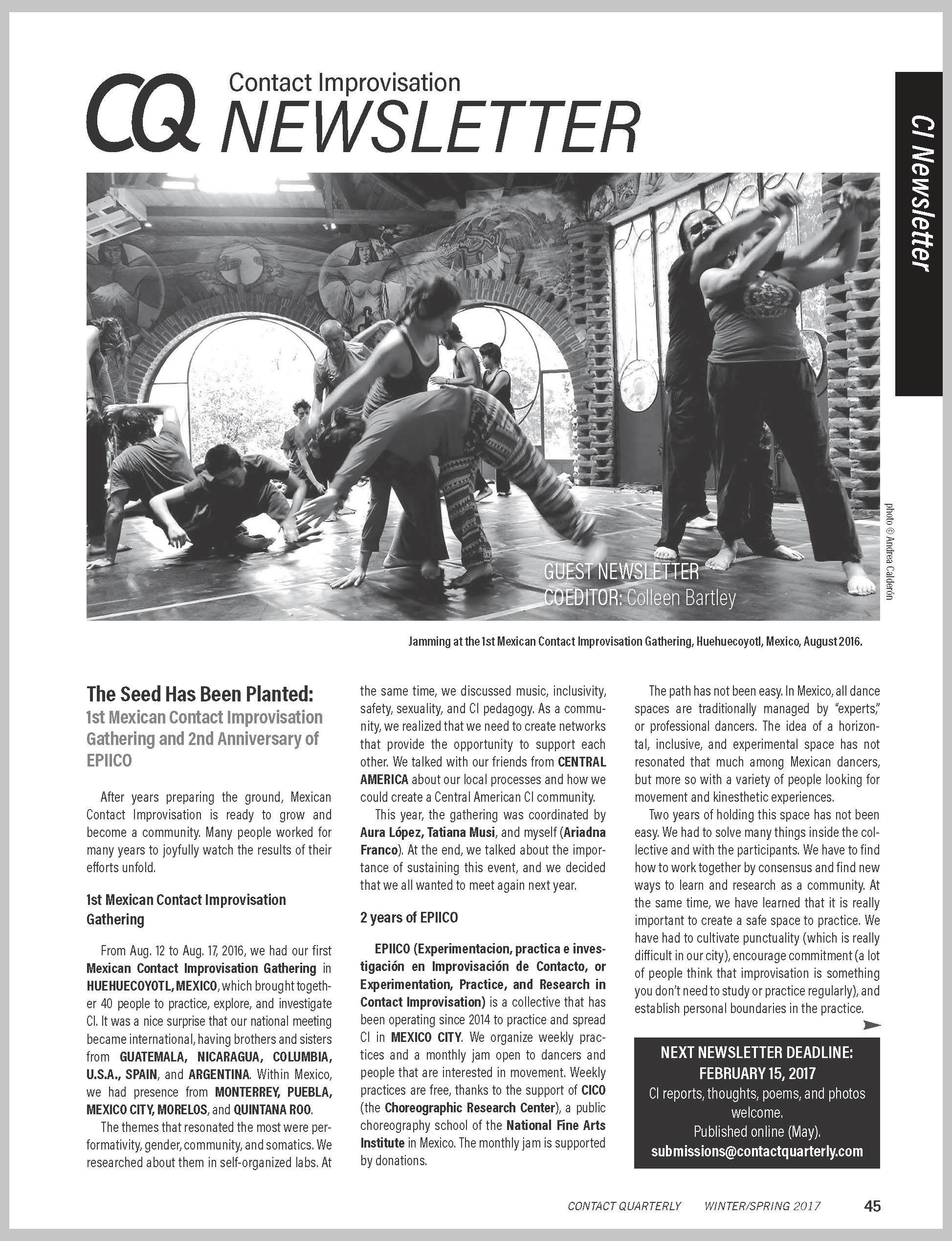 world-wide news & views
online onlyin print and online
read articles from the print publication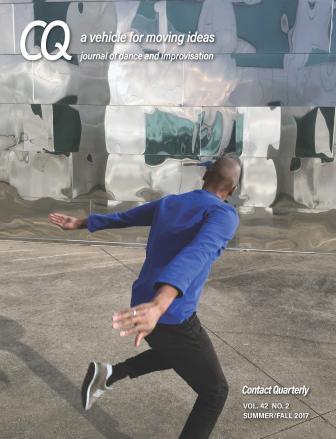 Conact Quarterly Volume 42 No. 2
Summer/Fall 2017


CQ

Folio #2: Dance/Contact Improvisation and Philosophical Thinking
4
Editor Notes
Present Tense
by Nancy Stark Smith and Lailye Weidman
5

CQ

FOLIO 2
CONTACT/DANCE IMPROVISATION AND PHILOSOPHICAL THINKING

curated by Romain Bigé, with Lisa Nelson

with photo essay by Mandoline Whittlesey
6

Curator's Note:

Philosophies in Movement
by Romain Bigé
7
Thinking in Movement
by Maxine Sheets-Johnstone
13

Philosophical Glimpses:

Standing
by Steve Paxton, Elizabeth A. Behnke, and Daniel Lepkoff
14
The Eloquent Torso
Politics and Mobility of the Center
by Alice Godfroy
18

Philosophical Glimpses:

Being Lost
by Charlie Morrissey and Erwin Straus
19
Mind-Fucking and Other Uncertainties
A dialogue between (philosopher) Romain Bigé & (dance improviser) Charlie Morrissey (and conversely)
23
seeing is being touched is being changed is being seen is being moved
by Mandoline Whittlesey
24

Philosophical Glimpses:

-Scapes
by Erin Manning and Steve Paxton
see below for further FOLIO articles posted online
on

CQ

Unbound
25

RIFF TALK

-ing on Identity and Performance
with Jaamil Olawale Kosoko, Joy Mariama Smith, Sara Smith and Tara Aisha Willis; moderated by Cassie Peterson
30
A Certain Kind of Knowing
Interview with Bonnie Bainbridge Cohen
by Nancy Stark Smith, for

CQ

34
Move When the Spirit Says Move
Contemplative Dance, Witness, and Embodied Testimony
by Christopher-Rasheem McMillan
40
Michelle Ellsworth: Performance Engineer
essay, interview, and performance texts
by Nancy Wozny, Joanna Rotkin, and Michelle Ellsworth
40
Ellsworth: State of Ecstatic Anxiety
by Nancy Wozny
44
Interview with Michelle Ellsworth
by Joanna Rotkin
70
Dance Map Directory—a dancer's guide to resources worldwide

FOLIO 2 EXTENSION

online on

CQ

Unbound
—exclusive for subscribers
Tonic Space: Steps toward an aesthetics of weight in Contact Improvisation Tonic Space: Steps toward an aesthetics of weight in Contact Improvisation
by Romain Bigé
Seen from the Outside Seen from the Outside
by Ernst von Glasersfeld
Open Gardenia (On Vulnerability) Open Gardenia (On Vulnerability)
email conversation between Romain Bigé and Steve Paxton
Contact Improvisation and the Lived World Contact Improvisation and the Lived World
by Elizabeth A. Behnke
plus more coming soon
Contributor Notes
Contributor notes: Vol. 42 no. 2
Bonnie Bainbridge Cohen is a movement artist, researcher, educator, therapist, and developer of the Body-Mind Centering® approach to movement and consciousness. Her work has influenced the fields of dance, bodywork, yoga, body psychotherapy, infant and child development, and many other body-mind disciplines. She is founder of The School for Body-Mind Centering® and author of the book Sensing, Feeling and Action and numerous DVDs on dance, embodied anatomy, embryology, and working with children with special needs. bodymindcentering.com
Betsy (Elizabeth A.) Behnke holds a Bachelor of Music from Oberlin Conservatory and a Master of Fine Arts from Ohio University (both in violin performance) as well as a PhD in Comparative Arts, also from Ohio University. She began studying phenomenology while working on her PhD there, while in addition serving as a dance accompanist and teaching dance history. She has published on dance, music, somatics, and phenomenological methodology, but her main focus is phenomenology of the body, describing bodily/kinaesthetic experience as lived from within and considering questions of embodied ethics. She and her cats live in the Pacific Northwest.
Romain Bigé is a philosophy teacher, dancer, and dance scholar based in Paris. A professor agrégé of philosophy and a Fulbright fellow (2017), he is currently preparing a PhD in the École Normale supérieure, drafting a Philosophy of Gestures on the poetics of Contact Improvisation and the philosophy of movement. He enjoys rolling on the ground and jumping in the air. cargocollective.com/sharingmovement
Michelle Ellsworth's honors include a Guggenheim Fellowship (2016), a Doris Duke Impact Award (2015), and a USA Artists Knight Fellowship in Dance (2012). Currently, Ellsworth is a Professor of Dance at the University of Colorado, Boulder and working on a seven-inch recording with drummer Sean Meehan. michelleellsworth.com
Alice Godfroy works in the space between dance and poetry, theory and practice, and academic and artistic worlds. Practicing dance for 30 years, she gradually specialized in improvisation, choosing Contact Improvisation as her favorite field of research and transmission. She is currently a professor in Dance studies at the University Côte d'Azur (France). At the crossroads of phenomenology, literature, and aesthetics, her latest books have defined the movement of text from the experience of the dancing body.
www.ganse-arts-et-lettres.org/alice-godfroy/ouvrages/
Jaamil Olawale Kosoko is a Nigerian American curator, poet, and performance artist. He is a 2017 Princeton Arts Fellow, a 2017 Jerome artist in residence with the Abrons Arts Center, and a recipient of a 2016 USArtists International award from the Mid-Atlantic Arts Foundation. Kosoko has created original roles in the performance works of visual artist Nick Cave, Pig Iron Theatre Company, Keely Garfield Dance, Miguel Gutierrez and the Powerful People, and Headlong Dance Theater, among others. His newest performance work, #negrophobia, is currently touring throughout Europe. The work also received a 2016 Bessie Award nomination. philadiction.org
Christopher-Rasheem McMillan received his BA from Hampshire College; his MFA in experimental choreography from the Laban Conservatoire, London, U.K.; and his PhD in Theology and Religious Studies from King's College, London. McMillan's diverse output of creative work includes live performance, and performance for camera, film, and photographic works. McMillan's work has been published in journals such as Dance, Movement & Spiritualities; Kinebago; and Choreography.net. Currently, McMillan is an Assistant Professor of Dance and Gender, Women's & Sexuality Studies at the University of Iowa. strategicrebellions.com
Charlie Morrissey is a director, teacher, and performer. He creates, collaborates, and performs in different site-specific theater and gallery-based performances, on large and small scales, and in diverse contexts internationally. charliemorrissey.com
Steve Paxton is an inveterate contactor who is interested in improvisation.
Joanna Rotkin is a dancer and choreographer living in Jamestown, Colorado. www.joannaandtheagitators.com
In her first life, Maxine Sheets-Johnstone was a dancer/choreographer, professor of dance/dance scholar. In her second and ongoing, she is a philosopher whose writings remain grounded in the tactile-kinesthetic body. She is affiliated with the Department of Philosophy at the University of Oregon, where she taught periodically in the 1990s. She has published over 80 articles in humanities, art, and science journals, and 10 books, which include The Phenomenology of Dance, The Primacy of Movement, and The Corporeal Turn: An Interdisciplinary Reader.
A native Philadelphian currently based in Den Haag, NL, Joy Mariama Smith's work primarily addresses the conundrum of projected identities in various contexts and the interplay between the body and its physical environment. Rooted in socially engaged art practice, they are a per-formance/installation/movement artist, activist, facilitator, curator, and architectural designer. They have a strong improvisational practice spanning 20 years. When they choose to teach, they actively try to uphold inclusive spaces. yournameherecollective.com
Sara Smith is a choreographer and librarian whose work traverses dance, visual art, writing, and historical imagination. Her research considers the contextual poetics and politics of embodied practices. She is the editor of Kinebago, a forum for writing about dance making and movement research in New England. sarasmithprojects.com
Philosopher and cybernetician Ernst von Glasersfeld (1917-2010), was the leading proponent of Radical Constructivism—a way of learning and knowing—which he coined in 1974, in collaboration with colleagues Heinz von Foerster and Paul Watzlawick. Radical Constructivism remains highly influential for a variety of research disciplines, including science education, linguistics, psychology, cybernetics, and philosophy. He received the Austrian Cross of Honour for Science and Art, 1st class, in 2008. His archives reside at the University of Innsbruck in Austria. www.vonglasersfeld.com; www.evg-archive.net/en/
Mandoline Whittlesey is a dance artist and practice-based researcher focusing on intersubjective relationships, perceptual fluidity, and symbolic phenomena. The practice of Authentic Movement provides her with a transdisciplinary perspective on aesthetic and ethical issues relating to movement pedagogies. She is currently pursuing an MFA in Choreography and Visual Arts at Wilson College. mandolinewhittlesey.com
Tara Aisha Willis has been an editor for Women & Performance, TDR, and co-edited an issue of The Black Scholar with Thomas F. DeFrantz. A PhD candidate in Performance Studies, NYU, writings also appear in Movement Research Performance Journal and The Brooklyn Rail. She currently dances with Kim Brandt, Yanira Castro, and Will Rawls in collaboration with Claudia Rankine. As Movement Research's Program Advisor, Tara organizes diversity initiatives and discursive events; this summer she joins the MCA Chicago as Associate Curator of Performance.
Nancy Wozny has covered Emilie Conrad, Jonah Bokaer, and Jennifer Monson in CQ and is happy to be back in CQ's pages with a story on Michelle Ellsworth. She is trained in the Feldenkrais Method and teaches at Rice University. She is editor in chief at Arts + Culture Texas, a contributing editor at Dance Magazine, and a frequent contributor to several other dance magazines. She has served as Scholar-in-Residence at Jacob's Pillow Dance Festival since 2010. artsandculturetx.com
ADDITIONAL ISSUE CONTRIBUTORS:
Max Bernstein, Pierre Borasci, Basha Cohen, Bernard Grant, Papus Benzé Keita, Daniel Lepkoff, Erin Manning, yuenji MARU, Bruce Miller, Blake Nellis, Tony Orrico, Adam Peditto, Cassie Peterson, Jen Polins, Tom Poyne, Peter Raper, Ryan Seelig, Satchel Spencer, Erwin Straus, Robbie Sweeney.