Vol. 44 no. 2 Summer/Fall 2019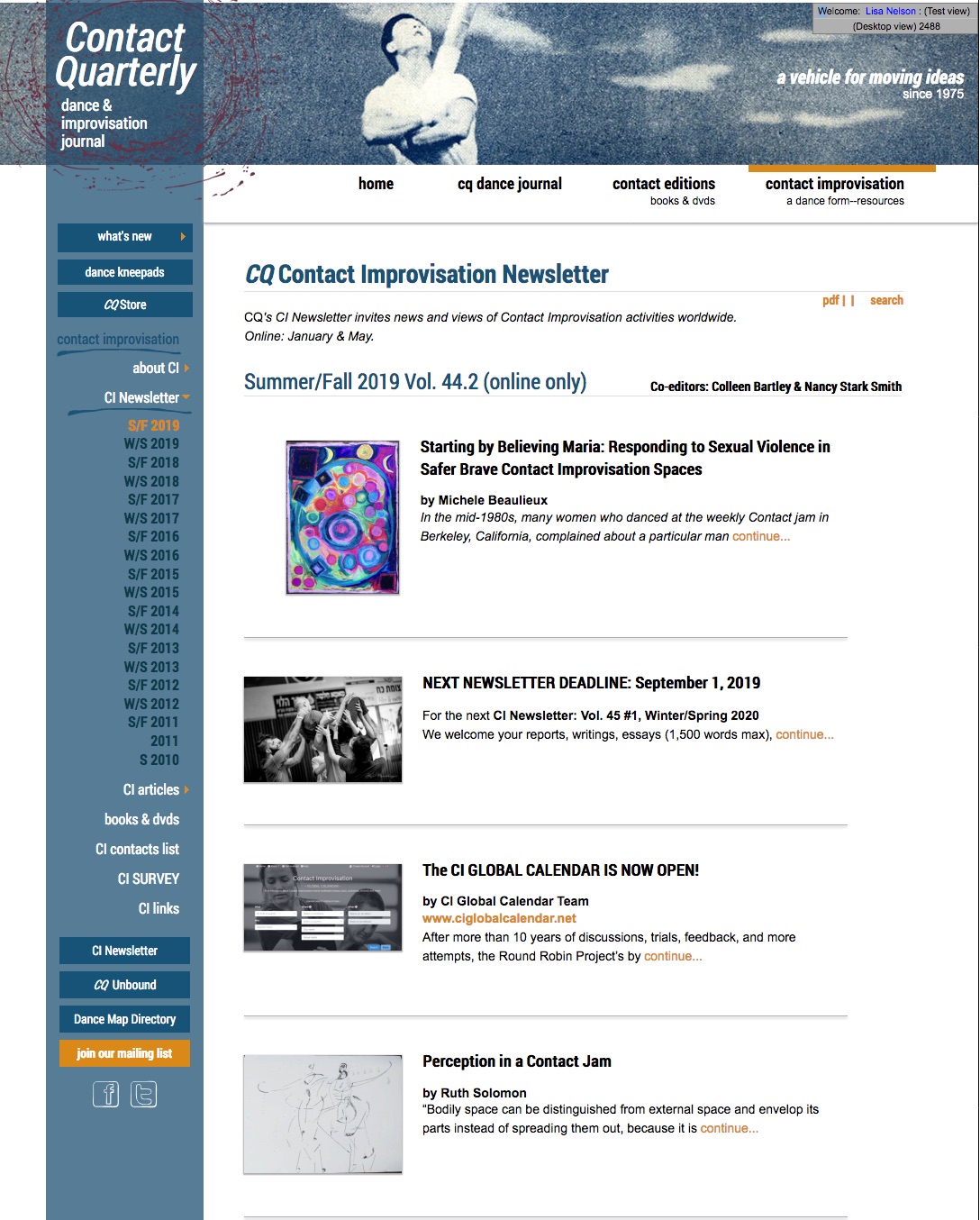 world-wide news & views
online onlyin print and online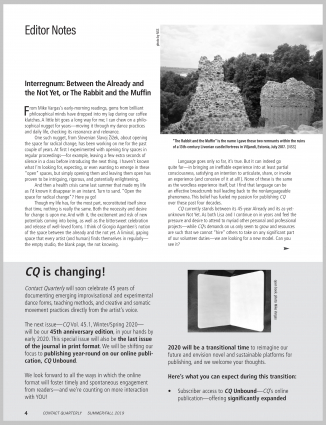 read articles from the print publication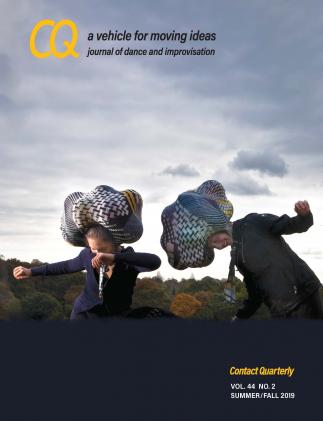 78 pp.
Contact Quarterly Volume 44 No. 2
Summer/Fall 2019
Folio 4: field within a field
2

Contact Editions

4
Editor Notes
4

CQ

is changing!
4
Interregnum: Between the Already and the Not Yet,
or The Rabbit and the Muffin
by Nancy Stark Smith
5

...begin end begin end begin...

by Lisa Nelson
7
Marronage
Elaborations on Performance, the Stage, and Staying Alive
by Jonathan González
13

CQ

FOLIO 3
field within a field
by Julien Bruneau
33
Somatic Costumes
A Teaching Resource and Performance Generator
by Sally E. Dean
38

RELATIONS

A Performance Reunion
by Tara Aisha Willis, Ishmael Houston-Jones, Ralph Lemon, and Bebe Miller
44
How Does This Body Want to Move
Dancing the Legacy of Elaine Summers
by Merián Soto
50
Queer Contact Improvisation (QCI): Alliance and Disruption
Reflections from the QCI Symposium and Festival
Hamburg 2018
by Aramo Olaya and Wiktor Skrzypczak
55
CI Newsletter—Contact Improvisation news & views
72
Dance Map Directory—contemporary dance & improvisation resources worldwide
76
Transitions
A Tribute to Sam Miller

(1952-2018)

writings by Judy Hussie-Taylor
Contributor Notes
Contributor notes: Vol. 44 no. 2
Julien Bruneau (Folio 4) is a dancer, choreographer, and visual artist based in Brussels, Belgium, whose work investigates the dynamic interplay between interiority and collectivity. For many years now, he's enjoyed a continuous collaboration with dance artists Maya Dalinsky, Anouk Llaurens, Laure Myers, and Sonia Si Ahmed. He also contributes to the field of artistic research as an author and editor for various publications. julienbruneau.be
Sally E. Dean (USA/UK)—international, interdisciplinary performer, choreographer, teacher, writer, and somatic practitioner for over 20 years throughout Europe, Asia, and the USA. Sally leads the collaborative Somatic Movement, Costume & Performance Project (2011), designing Somatic Costumes™ that elicit psychophysical awareness and generate performative experiences. She has been supported by the Arts Council England and the British Council, and is an MPhil candidate at Royal Holloway University. www.sallyedean.com
Jonathan González's current practice deals with situations of the stage in relation to place, time, and notions of the black, blackness, and black-being. A Bessie-nominated performer and director, their works have been shown at Danspace Project/St. Marks Church (ZERO) and MoMA (black MoMA), with forthcoming premieres of their two-part work, Lucifer Landing I & II (2019), scheduled at MoMA PS1's Sunday Sessions and Abrons Arts Center in spring 2019. They are based in their hometown of New York City.
Ishmael Houston-Jones is an improvisational and often collaborative choreographer, curator, and teacher. In 1982 he curated Parallels at Danspace Project, asking, "What is post–Alvin Ailey Black Dance?" In 2010 Houston-Jones restaged THEM, a 1985 collaboration with writer Dennis Cooper and composer Chris Cochrane, which explored aggression and sexuality and premiered during the rise of the AIDS epidemic in the United States. www.ishmaelhouston-jones.com
Judy Hussie-Taylor is executive director and chief curator of Danspace Project in New York City.
Ralph Lemon is a choreographer, writer, visual artist, curator, and the artistic director of Cross Performance, a company dedicated to the creation of cross-cultural and cross-disciplinary performance and presentation. His most recent works include Scaffold Room (2015), 4Walls (2012), and How Can You Stay in the House All Day and Not Go Anywhere? (2008–10).
Bebe Miller, a native New Yorker, first performed her choreography at New York's Dance Theater Workshop in 1978 and formed Bebe Miller Company in 1985. Known for its mix of virtuosic dancing and fundamental humanity, her choreography has been produced at major dance centers across the country and in Europe and Africa. Miller currently lives in Columbus, Ohio. The company's latest work, In a Rhythm, toured through the U.S. and Peru in 2018. bebemillercompany.org
Aramo Olaya is a feminist, queer activist, and contact improvisation and tango dancer who has spent the last 15 years researching gender and dance. They hold a PhD in sociology of gender and a degree in philosophy, and have formed part of the queer and feminist political movement in Spain for many years. They also developed the idea behind the International Congress on Philosophy of Dance. They currently dance and teach in Valencia. congresofilosofiadeladanza.com
Wiktor Skrzypczak is a dance artist and architect. They love the routine of improvised dance leading to chaos. Currently, they are working on a doctoral thesis about correlations between bodily self-consciousness and space perception and are highly interested in the social and political dimensions of CI. They have been facilitating and teaching queer tango since 2014 and Contact Improvisation since 2017. queer-contact-impro.org
Merián Soto is the creator of aesthetic somatic practices Branch Dancing and Modal Practice. She is the recipient of a Bessie Award for sustained achievement and a Greater Philadelphia Rocky Award for the One Year Wissahickon Park Project, and is a 2019 United States Artists Doris Duke Fellow in Dance. Soto is a professor of dance at Boyer College of Music and Dance, Temple University, Philadelphia. www.meriansoto.com; https://vimeo.com/meriansoto.
Tara Aisha Willis is Associate Curator of Performance at the Museum of Contemporary Art Chicago. She is a PhD candidate in Performance Studies at New York University and has held editorial positions at Women & Performance and TDR/The Drama Review, and coedited a special issue of The Black Scholar with Thomas F. DeFrantz. Willis currently performs in a collaboration between Will Rawls and Claudia Rankine. She danced in the original Bessie Award–winning performance by Skeleton Architecture.
ADDITIONAL ISSUE CONTRIBUTORS:
Esther Adam, Sandra Arroniz Lacunza, Fahri Ayberk Bağcı, Nydza Bajandas, Grace Barber, Montana Bass, Michele Beaulieux, Jason Brooks, Valére Bruneau, Chris Cahoon, Edo Ceder, Lietje de Haas, Sofia Del Mar Collins, Hakan Demirtürk, Laura Doehler, Ian Douglas, Johan Elbers, Defne Erdur, Laura Faure, Ian Ferguson, Tommaso Gianni, Greg Milner Photography, Elisa Gutierrez, David Horan, Claire Jemison, Hazal Kaya, Nathan Keay for MCA Chicago, Christian Kipp, Yağmur Kutlar, Julie Lemberger, Chelsea Lemon Fetzer, Alyssa Lynes, Louisa Mackenzie, Lucy Mahler, Dan Merlo, Sam Miller, Pamela Moore, Karen Nelson, Luna Pérez Visairas, Brendan Plake, Kora Radella, Marion Ramírez, Juliet Shelley, Ruth Solomon, Dilek Üstünalan, Mike Vargas.