CQ Dance Journal: Vol. 45 No. 1: Winter/Spring 2020
Sept 2021 Update:
We've completed uploading our full archive of Back Issues as digital PDFs.

Click on a volume number to see front cover and specs. Click again or click on the cover to view Table of Contents and Contributor Notes for that issue.

Use our SEARCH function on the top right of the banner to locate articles by Author and Keyword.

Our original print Back Issues are temporarily unavailable as we look for a new distributor.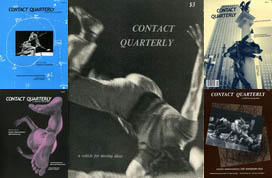 CQ
Complete Back Issue Set
PDFs of each of 108
CQ
back issues.
45% savings!
$300
PDF (1.73 GB zip file)