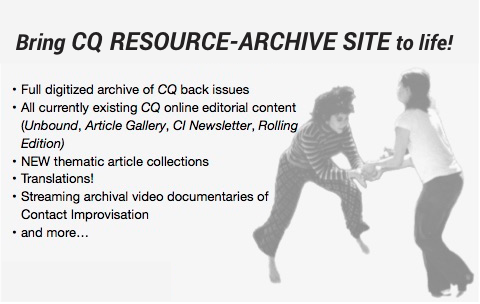 Click on the yellow Donate button to fill in your own amount.
Any amount is greatly appreciated. See below to donate by check or money order. Thank you.


"I have seen CQ moving in directions that embrace, envelop, and encompass a generous span of performance endeavor, and it's a wonder that this little project, started decades ago by a group of outliers, perseveres. But it's no longer "the little engine that could": it can, and does! CQ widens/
broadens its tracks while maintaining integrity of purpose, means, and product."
–Brenda Dixon-Gottschild, Professor Emerita of dance, Temple Univ.
"CQ is one of the few publications that brings us writing directly from the bones and sinews of dance, illuminating the practice as we do and understand it. Please support us as we continue to accompany you on your own dance journey, and as we re-envision our future. Your support is a critical part of the conversation."
–Lesley Farlow, dance artist and movement educator, CQ Advisory Board

Directors/Editors
Lisa Nelson
Nancy Stark Smith (1975-2020)
CQ Staff
Associate Director: Lesley Farlow
Contributing Editors: Aretha Aoki, Colleen Bartley, Meredith Bove, mayfield brooks, Melinda Buckwalter, Rosemary Carroll, Sofia Engelman, Simone Forti, Karen Nelson, Andrea Olsen, Steve Paxton, Christina Svane, Lailye Weidman
Office/Operations Mgr:
Jerry Mandel
Communications Mgr:
Sofia Engelman
Shipping Mgr: Em Papineau
Intern: Alta Millar
Web Director: Lisa Nelson
Webmaster: Daniel Lepkoff
Fundraising
Colleen Bartley, Leslie Cohen-Rubury, Margit Galanter, Peter Heller (consultant), K.J. Holmes, Kristin Horrigan, Karen Nelson, Lisa Nelson, Wendy Perron, Karen Schaffman, Christina Svane
CQ Advisory Board
Chris Aiken
Shaina Cantino
Lesley Farlow
Sarah Lass
Marlene Wong
Marlon Barrios Solano (consultant)
Sara Smith (consultant)
Contact Collaborations Board of Directors
Daniel Lepkoff
Lisa Nelson
Steve Paxton
Elizabeth Zimmer
Nancy Stark Smith (1952-May 2020)
info @ contactquarterly.com

Contact Collaborations, Inc., is CQ's nonprofit 501(c)(3). Your donation may be tax-deductible.




New Year's Update:
WE'VE MET OUR 2020 FUNDRAISING GOAL! THANKYOU!
With your extraordinary response to our call since early October, we've met our goal to raise $50,000 by year's end. Seeded by a $12,000 anonymous donation, over 200 donors pitched in to found CQ's Resource-Archive Site.
Our DEEPEST GRATITUDE TO ALL who have given so generously to our entire 2020 fundraising appeal since May
in Nancy's honor. We celebrate each of you here.
Looking forward, we welcome your donations to sustain CQ's Resource-Archive Site in the coming years.
We greet you on the cusp of the new year with hopes that you and loved ones are staying safe and finding inspiration during this time of global transformation.
At the end of September, after months of economic freefall unleashed by Covid-19 and the passing of co-founder/editor, Nancy Stark Smith, we re-imagined CQ as a Resource-Archive site—to make our 45-year collective body of work accessible to current and future generations of dancers and continue our ongoing online publications as open access to everyone.
Knowing that as we let go of our physical office (and thus the income from distributing CQ, books, etc.) and our subscription model, we will have to find new modes of support, we turned to you, our four-generation community, to found CQ's next incarnation. In the days before New Year, the Benefit Celebration and Silent Auction organized by a stellar community team brought us to the finish line.
Thank you for carrying CQ into the future.
May 2021 bring us some lightness of spirit as the forces of
(r)evolution continue to turn.

Lisa, Lesley, Sofia, Em, Jerry and All of Us at CQ

All payment methods welcome.
To pay by check or money order, fill out to 'Contact Quarterly'
and mail to:
Contact Quarterly
PO Box 603
Northampton, MA 01061
USA

We welcome your questions and suggestions at:
gifts @ contactquarterly.com


Photo above: CQ coeditors Lisa Nelson [left] and Nancy Stark Smith, 1978.
Photo © Babette Mangolte