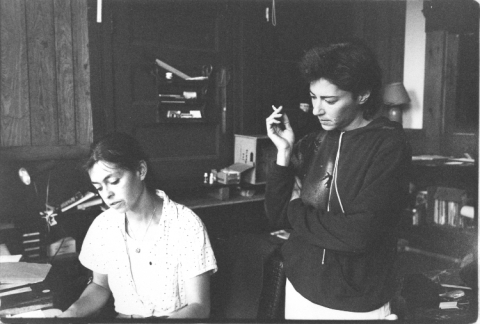 Nancy Stark Smith & Lisa Nelson make an issue of Contact Quarterly in Northampton, MA, 1984. Photo © Bill Arnold.

Click on the yellow Donate button to fill in your own amount. Any amount
is greatly appreciated. All donations are tax-exempt to the full extent of the law. Thank you.


"I have seen CQ moving in directions that embrace, envelop, and encompass a generous span of performance endeavor, and it's a wonder that this little project, started decades ago by a group of outliers, perseveres. But it's no longer "the little engine that could": it can, and does! CQ widens/
broadens its tracks while maintaining integrity of purpose, means, and product."
–Brenda Dixon-Gottschild, Professor Emerita of dance, Temple Univ.
"CQ is one of the few publications that brings us writing directly from the bones and sinews of dance, illuminating the practice as we do and understand it. Please support us as we continue to accompany you on your own dance journey, and as we re-envision our future. Your support is a critical part of the conversation."
–Lesley Farlow, dance artist and movement educator, CQ Advisory Board

Directors/Editors
Lisa Nelson
Nancy Stark Smith
CQ Staff
Associate Director: Lesley Farlow
Coeditor: Melinda Buckwalter
Editorial Associate: Meredith Bove
Contributing Editors: Colleen Bartley, Simone Forti, Karen Nelson, Andrea Olsen, Steve Paxton, Christina Svane, Lailye Weidman
CI Newsletter Coeditor:
Colleen Bartley
COVID-19 Newsletter Editors: Colleen Bartley, Rosemary Carroll, Karen Nelson, Lisa Nelson
Graphic Design: Jill Apolinario
Office/Operations Mgr:
Jerry Mandel
Ads/Marketing Mgr/Shipping:
Sofia Engelman
Shipping Mgr: Em Papineau
Web Director: Lisa Nelson
Webmaster: Daniel Lepkoff
CQ Advisory Board
Chris Aiken
Shaina Cantino
Lesley Farlowe
Sarah Lass
Marlene Wong
Marlon Barrios Solano (consultant)
Sara Smith (consultant)
Contact Collaborations Board of Directors
Daniel Lepkoff
Lisa Nelson
Steve Paxton
Nancy Stark Smith
Elizabeth Zimmer



Contact Collaborations, Inc., is CQ's nonprofit 501(c)(3). Your donation is tax-deductible.




AS WE MOURN the loss on May 1st of our beloved cofounder, codirector, and coeditor, NANCY STARK SMITH, we are marking all your generous donations in her honor. With tender gratitude, CQ

Dear Readers & Friends,
We greet you during this destabilizing time with hopes that you and loved ones are staying safe and finding comfort and inspiration in uncommon places.
For 45 years, the support of Contact Quarterly contributors, donors, and subscribers has kept us moving. As the COVID-19 crisis has affected us all—individually and collectively—your generosity continues to be our foundation.
We are as committed as ever to provide unparalleled primary source materials for dance creativity and scholarship. Please consider making a contribution to CQ/Contact Editions now!
Donations of any amount within your means are deeply appreciated at this time. Your 100% tax-deductible donation facilitates this critical work in the field of dance.
Thank you for carrying CQ into the future.
Our warmest wishes,
Lisa Nelson, Meredith Bove, Melinda Buckwalter, and all at CQ