CQ Resources for Remote Dancing

Welcome to our Resources for Remote Dancing page during this challenging time of COVID-19 shelter-at-home. We know you are all improvising new ways of dancing, creating, teaching, and studying, whether out in the field or in the context of academia, and it's a heady time of invention. Here, we offer you some ideas for using the rich resources of Contact Quarterly.
There could be no better time to dip into our Contact Editions catalogue of unique books and DVDs on contemporary dance, improvisation, performance, and somatic movement arts.
Use the

search

engine here on our site to locate articles and books by author or keywords both in print and on our online-features. For your own and your students' research and inspiration, some keywords that come to mind:

teaching, scores, composition, improvisation.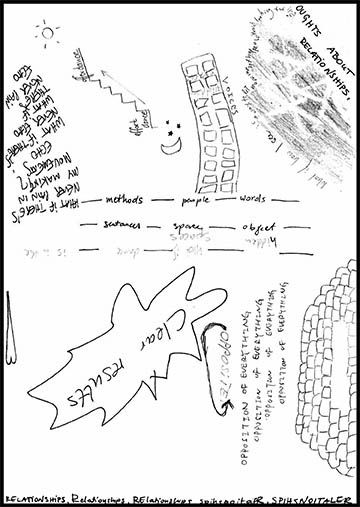 Day 4 Group Score [anonymous], from "OUT-SCORE / IN-SCORE WORKSHOP: teaching artistic agency in contemporary choreographic practices," by Jeanine Durning and Liz Waterhouse. See CQ Vol. 39.1 W/S 2014.
Reach into

CQ

's trove of Back Issues for writings by dance artists on processes of performance, improvisation, dance-making, somatic research, training the body, and more.
Access them digitally through your school library system.
Peruse your own collection of print issues, or request them from your library.
To get you started, CQ coeditor Melinda Buckwalter suggests:
SCORES FOR MOVEMENT AND DANCE
CQ Vol. 30 no. 2:
Following Jennifer Follow the Birds: interview with Jennifer Monson on Bird Brain Dance, by Nancy Galeota-Wozny
Two Streams/Many Ways: interview with Barbara Dilley on her dance improvisation practices, by Nancy Stark Smith
CQ Vol. 31 no. 2:
The Place of Space: interview with Bonnie Bainbridge Cohen on the embryological embodiment of space, by Nancy Stark Smith and Andrea Olsen
CQ Vol. 32 no. 1:
All at Once: dancing The Ridge in New York City parks, by Hana van der Kolk
Artifacts of the Ephemeral: a moving installation, by Colleen Bartley
The Emergent Improvisation Project: embodying complexity, by Susan Sgorbati
On the Streets, In the Forest: interview with Tamar Rogoff on community-based site work, by Sharyn Korey
CQ Vol. 32 no. 2:
Nina Martin's Ensemble Thinking: Compositional Strategies for Group Improvisation, by Nina Martin
Inter-views with Nina Martin: an interweaving of two interviews, by Jennifer Keller, Melinda Buckwalter, and Nancy Stark Smith
CQ Vol. 41 no. 2:
Technology of the Circle: interview with Onye Ozuzu, by Aretha Aoki
CQ Vol. 41 no. 1 AND ONLINE on CQ Article Gallery
IWB=Improvising While Black: writings, INterventions, interruptions, questions, by mayfield brooks, with interview by Karen Nelson
The Practice of Form: a class by Ralph Lemon, remembered by Aretha Aoki
CQ Vol. 44 no. 1:
Under Seeing: An Approach to Feeling and Sensing Performance, experiencing works by the BodyCartography Project by Olive Bieringa, Margit Galanter, Justin Jones, Arwen Wilder, and Asher Edes
The Dance of Description: evolution of a form, by Christie Svane
CQ Vol. 44 no. 2:
Rage, Walk, Rise, by Alexx Schilling with Alison D'Amato

We hope this is a useful guide to CQ resources and welcome your ideas to add to this page. You can send to us at . And please stay safe and inspired during this unprecedented time of change.