Dance Map Directory
contemporary dance & improvisation resources worldwide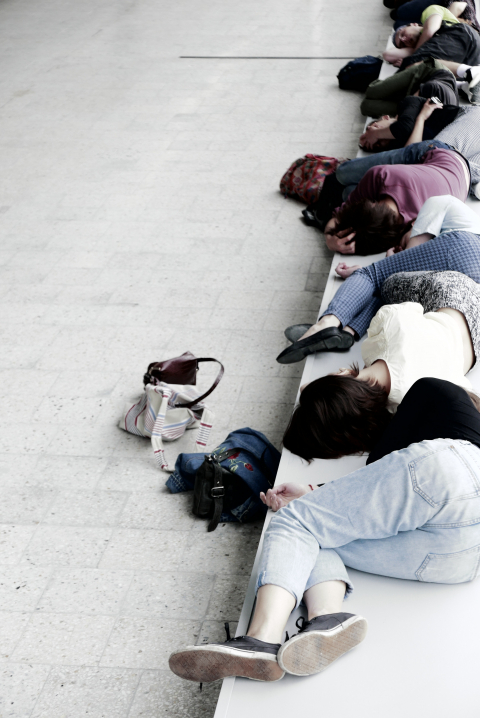 Romain Bigé invites members of the audience to nap in expo zéro, a project curated by Boris Charmatz and Martina Hochmuth, on May 7th 2016 at the Museum of Modern Art in Warsaw, Poland. Photo © Mandoline Whittlesey
Welcome to CQ's 2020 Dance Map Directory. Movers of all ages regularly ask us for guidance on where to study and practice the kinds of dance, movement, and somatic work represented in our publications. Every year we are thrilled to include more resources. Here you will find an expanded list of academic and independent dance programs, somatic programs, organizations, artist residences, retreat centers, festivals, dance-related events, products, and services. We hope you find what you're looking for, as well as inspiration to explore.
For deadlines and specs on how to submit your Dance Map Directory listing, click here.

Updated Jan 1, 2020


Academic (Undergraduate & Graduate Degree Programs)
Bennington College
Dance Program
Bennington, VT, United States
BA, MFA
Focus on creating new dance work and, by so doing, learn about the dynamic interrelationship of multiple elements and multiple disciplines. Collaborative opportunities; remarkable facilities.
(802) 440-4547 | www.bennington.edu
Denison University
Department of Dance
Granville, OH, United States
BA in Dance, Minor
A small and vibrant liberal arts school, Denison is committed to intellectual and artistic investigation in multiple areas of study: Movement Practices include Modern/Postmodern, African/Diaspora, and Performance in various genres; Dance Studies encompass Cultural Studies, Composition/Improvi-
sation, Movement Analysis, and Somatics. Courses are taught by three active and accomplished artists/scholars and complemented by a rich Guest Artist Residency Program.
(740) 587-6712 | www.denison.edu/dance
Five College Dance Department
Amherst, MA, United States
BA, BFA, MFA
Dance in the intellectually and artistically vibrant academic community of the Five College Dance Department, offering over 100 courses a year through the coordinated curricula of Amherst College, Hampshire College, Mount Holyoke College, Smith College, and the University of Massachusetts at Amherst. Rigorous, diverse dance training in world-class facilities, offering numerous choreographic and performing opportunities as well as theoretical and cross-disciplinary study.
(413) 559-6622 | http://www.fivecolleges.edu/dance
Gustavus Adolphus College
Department of Theatre and Dance
St. Peter, MN, United States
BA Dance, Dance Minor
The Department of Theatre and Dance's mission emphasizes the value of performance as a vital means of working for social justice and personal transformation. Our program seeks to produce technically skilled, articulate movers who use dance as a way to perceive, discover, create, and communicate. In addition to our accomplished faculty, teaching and choreography is supplemented by nationally recognized guest artists.
(507) 933-7353 | | gustavus.edu/theatre-dance
Mills College
Dance Department
Oakland, CA, United States
BA, MA, MFA
At Mills College, you'll be encouraged to push the boundaries of your artistic vision. You'll integrate your physical and intellectual practice with close mentoring by our renowned faculty and support from our inclusive community of dancers. Find inspiration in the heart of the San Francisco Bay Area's innovative dance scene, and expand every dimension of your art at Mills.
(510) 430-2175 | /dance | www.mills.edu/dance
Oberlin College
Department of Dance
Oberlin, OH, United States
BA in Dance
The Oberlin College Dance Department encourages students to create, perform, and think about dance in a manner that is consonant with their studies in the liberal arts. The curriculum offers various approaches to the study of movement, with an emphasis on connecting physical and intellectual learning. We support students' curiosity and encourage a willingness to take risks and explore new ideas.
(440) 775-8152 | | http://oberlin.edu/dance
Ohio State University
Department of Dance
Columbus, OH, United States
BFA, MFA, PhD
Located in a state-of-the-art facility near the Wexner Center for the Arts, Ohio State Dance integrates physical practice, creative process, and theoretical inquiry through Movement Practice, Improvisation, Choreography, Performance, Analysis, Criticism, Filmmaking, Design, Intermedia, Technology, History, Theory, Literature, Writing, and Interdisciplinary Collaboration. Graduate associate and fellowships awarded; NASD accredited. "Ohio State Dance—a nest of brilliance" (William Forsythe).
(614) 292-7977 | | dance.osu.edu
Rowan University
Department of Theatre and Dance
Glassboro, NJ, United States
BA in Dance
Rowan University's BA in Dance is committed to experimental and collaborative movement training coupled with intellectual engagement. Students develop individual artistry through performance opportunities, close faculty mentorship, and exposure to current performance practices. Introductory courses like Dance Improvisation increase body awareness and encourage movement invention, while the upper-level courses—Advanced Styles and Composition—explore the expressive potential of the body.
(856) 256-4030 | | www.rowan.edu/theatredance
Sarah Lawrence College
Dance Program
Bronxville, NY, United States
BA in Liberal Arts, Concentration in Dance;
MFA in Dance; MS in Dance/Movement Therapy
The Sarah Lawrence College Dance Program provides an inclusive curriculum that exposes students to vital aspects of dance through physical, creative, and analytical practices. The faculty includes award-winning dance artists with active, creative, professional practices. Proximity to New York City allows the infusion of the richness of the NYC dance community into the curriculum. Students are encouraged to study broadly, widen their definitions of dance and performance, inform their practice with ideas that stretch beyond traditional disciplinary boundaries, and engage in explorations of form and function. A variety of performing opportunities are available in both informal and formal settings.
(914) 337-0700 | | | sarahlawrence.edu/danceatslc/
Skidmore Summer Dance Workshop with Doug Varone and Dancers
Skidmore College/Office of Special Programs
Saratoga Springs, NY, United States
Non-credit and undergraduate credit
From May 31 to June 20, 2020, Skidmore College will offer an intensive workshop for preprofessional and professional dancers led by Doug Varone and Dancers. Daily classes in Technique, Phrasework, Ballet, and Improvisation will be supplemented by evening and social activities, all on Skidmore College's beautiful campus in upstate New York.
(518) 580-5595 | | http://skidmore.edu/summerdance
Smith College
Department of Dance
Northampton, MA, United States
BA, MFA in Dance
All graduate students receive fellowships in the two-year co-ed MFA program embedded in the Five College Dance Department. Faculty includes renowned improvisation artists Chris Aiken and Angie Hauser. Specialization areas: performance, choreography, creative process, dance-film, music, pedagogy, dance science, critical theory, and dance research. As technique instructors, fellows obtain significant experience teaching in higher education. Intimate community; close mentorship.
(413) 585-3232 | | www.smith.edu/dance
Texas Woman's University
Department of Dance
Denton, TX, United States
BA in Dance Studies, BA in Dance Education with teaching certificate,
MA in Dance, MFA in Dance, PhD in Dance
TWU's Department of Dance provides a comprehensive liberal arts–based dance program with a rigorous yet noncompetitive creative culture. The bachelor's programs develop students as dance artists and educators. The master's programs merge studio work with an in-depth study of dance as art and cultural expression, providing students the skills and knowledge needed to impact the field of contemporary dance. TWU's doctorate in dance is a research-oriented program with a low-residency, cohort format. Students connect theory with practice in such contexts as artistic process, dance studies, pedagogy, and the scholarship of teaching.
(940) 898-2086 | | www.twu.edu/dance
The University of California, Los Angeles (UCLA)
Department of World Arts and Cultures/Dance
Los Angeles, CA, United States
BA, MA, MFA, PhD
UCLA World Arts and Cultures/Dance offers two graduate programs, with faculty including Kyle Abraham, Anurima Banerji, Susan Foster, Dan Froot, Victoria Marks, Janet O'Shea, Lionel Popkin, David Rousseve, Tria Blu Wakpa, and Cheng-Chieh Yu. An MFA is offered for those pursuing a professional choreographic career, and an MA/PhD for those more focused on scholarly approaches. Both degrees combine wide-ranging perspectives on the arts, globalization, curation, film, ritual, politics, and critical dance studies.
(310) 825-3951 | | www.wacd.ucla.edu
University of Music and Performing Arts, Frankfurt am Main
Department of Contemporary and Classical Dance (ZuKT)
Frankfurt am Main, Germany
BA Dance, MA Contemporary Dance Education (MA CoDE),
MA Choreography & Performance (MA CuP)
The BA dance program, with Dir. Prof. Dieter Heitkamp, is built on seven interconnected columns—technique, creativity, body awareness, theory, project work, interdisciplinarity, and performances. MA CoDE, with Dir. Prof. Ingo Diehl, supports dance-makers by reconsidering fundamentals of their practice and the function of the teacher/facilitator in the learning process. MA CuP, with Dir. Prof. Dr. Bojana Kunst, is designed toward dance, body, movement, choreography, and performance, as well as scientific method. In cooperation with the Institute for Applied Theater Studies, Justus-Liebig-University of Giessen. ZuKT collaborates within an international network of artists, theatres, and institutions.
+49 69 154 007 146 | tanz.hfmdk-frankfurt.info; macode.hfmdk-frankfurt.info | www.uni-giessen.de/theater/de/studium/cup (MA CuP)
University of San Francisco
San Francisco, CA, United States
Performing Arts and Social Justice Major, Dance Concentration, Dance Minor
The University of San Francisco Dance Program offers a unique educational model in the performing arts: a four-year program designed to provide in-depth training and practice of dance as social action, grounded in rigorous technical and choreographic exploration. The Performing Arts Dept. offers a Major in Performing Arts and Social Justice with a Dance Concentration, and a Minor in Dance.
(415) 422-5979 | | | www.usfca.edu/pasj
Independent: Certificate Programs
Chesapeake Bay Alexander Studies
Alexander Technique Teacher Training
Annapolis, MD, and Greensboro, NC, United States
CBAS is a three-year teacher training program composed of monthly 2- and 4-day sessions in Greensboro, NC. Trainees also attend residential workshops and private lessons throughout the year and complete independent-study projects. Program is designed for professionals and mature learners who weave the training into their lives. Director Robin Gilmore and other faculty members teach throughout the U.S. and abroad.
(410) 268-2841 | | www.chesapeakealexander.com
EUROLAB
Certificate Programs in Laban/Bartenieff Movement Studies (LBMS)
Berlin, Germany
The EUROLAB Certificate Programs in Laban/Bartenieff Movement Studies (LBMS) are offered in a 4-week intensive in July/August in Berlin, Germany, starting every second year. Program goal is to acquire the foundations of a comprehensive movement study and a holistic understanding of movement. The curriculum includes the practical and theoretical study of Bartenieff Fundamentals, Laban Movement Studies, movement observation, motif notation, and seminars on the history and application of LBMS. Both parts of the program—Basic Level (2 years) and Advanced Level (2 years)—are directed by Antja Kennedy. Application deadline: end of March.
+49 (0) 30 5228 2446 | | www.eurolab-programs.com
Moving On Center (MOC)
School for Participatory Arts and Somatic Research
Berkeley, CA, United States
Certificate in Somatic Training (128 hours)
Established in 1994 by co-founders Carol Swann (Director) & Martha Eddy, MOC offers a rigorous and transformative training. A leading pioneer in Somatic Education, MOC integrates numerous somatic systems with the performing arts toward social change. MOC's studio is at The Finnish Hall, Berkeley. The 2019–20 extended weekend Somatic Education Module: Developmental Movement (Diane Elliot), Experiential Anatomy/Axis Syllabus (Nuria Bowart), Alexander Technique™ (Carol Swann), Body-Mind Centering® (Diane Elliot), Bartenieff Fundamentals™ (Brenton Cheng), Laban Movement Analysis™ (Martha Eddy), Hakomi Somatic Therapy (Shai Lavie), and Voice thru the Body (Carol Swann). Curriculum includes Integration Classes, Process Circles & Somatic Seminars.
(510) 524-5013 | | www.movingoncenter.org
Patricia Bardi—VMI Somatic Practice
Amsterdam, Netherlands, and Worldwide
VMI Somatic Practice Certification Program combining Vocal Dance,
Voice Movement Integration, & Vital Movement Integration Bodywork
Leads to Registered Somatic Movement Therapist/Educator accredited by ISMETA
Licensed Natural Health Practitioner, by KTNO for health insurance.
The VMI Certification Program offers a holistic, integrative approach for somatic practitioners to develop skills connecting dance, movement, voice, improvisation, bodywork & movement repatterning education. Annual Foundation Course begins autumn. Organ Rebalancing—advanced bodywork practitioner accredited postgraduate program. The Rocca Project, located in Tuscany, Italy, is an interdisciplinary performance and healing arts program offered annually in July/August.
+31 (0)6 246 17853 | | www.patriciabardi.com
Somatic Academy Berlin
Paul-Lincke-Ufer 30
10999 Berlin, Germany
The Somatic Academy Berlin is a place devoted to learning, researching, and practicing a variety of integrative embodiment practices (Somatics). Expanding the applicability of somatic methods, the curriculum includes artistic, pedagogical, and therapeutic training programs; workshops and classes for professionals, laypeople, and all who work with people using body awareness, movement, voice, bodywork, theory, philosophy, and reflection. Our holistic and interdisciplinary approach is thus far unique in Germany. Our training programs includes Somatics in Dance, Choreography and Performance; Somatic Pedagogy; Continuum Training; Somatic Voice; Somatic Yoga; BMC®; and Environmental Somatics.
| www.somatische-akademie.de
Tamalpa Institute
Kentfield, CA, United States, and worldwide
Tamalpa Practitioner & MA/PHD Options
Tamalpa Institute, founded in 1978 by dance and expressive arts therapy pioneers Anna and Daria Halprin, offers a comprehensive training program and workshops in the Tamalpa Life/Art Process®, a movement-based expressive arts approach that integrates movement/dance, visual arts, performance techniques, and therapeutic practices. Students learn to incorporate the principles and tools of embodied creativity into their personal development and professional practices and take the work into such fields as expressive arts therapy, education, arts, consultation, health care, and community service.
(415) 457-8555 | | tamalpa.org
Independent: People, Places, & Programs
Bates Dance Festival
Lewiston, ME, United States
The Professional Training Program (July 19–August 9, 2020) is for dancers ages 18 and up who have experience and curiosity in technique, theory, and pedagogy. Choose from Modern, Gaga, Hip Hop, Jazz, Improvisation, Ballet, and Yoga morning classes, and design your individual experience by taking afternoon intensives in Canon, Contemporary Forms, Making Work, Repertory, and Pedagogy & Social Practice.
(207) 786-6381 | | www.batesdancefestival.org
Contact Improv Boston
Boston, MA, United States
Join our weekly events for dancers of all experience levels. Tuesday evenings: jams and classes in Harvard Square, Cambridge. Sunday mornings: class/jams in Arlington. Fall Saturday FUNdamentals series class. Large residential weekend gatherings welcoming dancers from afar: May Jam on Memorial Day weekend; Fall Jam on a weekend in October; Winter Workshop Weekend in February/March. For info, go to our website, search Facebook, or join our email list: ContactImprovBoston.
ContactImprovBoston.com
Contemplative Dance
Haydenville, MA, United States
We offer workshops and trainings in this simple yet profound practice of moving meditation that works with the innate intelligence of body, psyche, and imagination, and their drive for wholeness and integration. As we practice, we discover aspects of ourselves from fresh perspectives. As we practice with others, we develop an appreciation for the diversity of human experience. Join us!
(413) 268-3294 | | www.contemplativedance.org
Embodiment in Education / Susan Bauer, MFA, RSME/T, RSDE
Berkeley, CA, United States
Offering workshops and trainings for educators in teaching somatics with teens and college-level adults. (See Susan's book, The Embodied Teen: A Somatic Curriculum for Teaching Body-Mind Awareness, Kinesthetic Intelligence, and Social and Emotional Skills [Berkeley, CA: North Atlantic Books, 2018]). The program has been attended by dance/movement professionals from across the U.S., Canada, Europe, and Asia. Guest faculty have included Bonnie Bainbridge Cohen, Deane Juhan, and Caryn McHose.
(510) 333-6415 | | www.susanbauer.com
Ku & Dancers
Taipei, Taiwan
i-lab 2020, Taitung CI & Improv. Dance Workshop, CI JAMs!
i-lab 2020: An open lab for improvisation dance performance (3rd Sunday evening monthly), providing a space for anyone interested in improvisation dance performance; Taitung Workshop: CI Workshop in Taitung in early January & July; CI JAMs: every 1st & 3rd Sunday afternoon monthly.
+886-2-28923600 | | www.kudancers.org
Movement Research
New York, NY, United States
Movement Research, one of the world's leading laboratories for the investigation of dance and movement-based forms, offers low-cost, ongoing, and drop-in classes; workshops; winter and summer MELT intensives, and festivals, performances, events, and artist residencies. Movement Research programs feature the most established, progressive teachers and creators in dance today. Movement Research publishes the web-based Critical Correspondence and the print-based twice-annual Movement Research Performance Journal; subscriptions are available online.
(212) 598-0551 | | www.movementresearch.org
The School for Contemporary Dance and Thought (SCDT)
Northampton MA, United States
SCDT is home to internationally experienced performance artists who are also innovative teachers. The School's mission is to showcase contemporary movement training and performance practices that embrace multiplicity, arouse curiosity, and emphasize personal choice. Central to SCDT's mission is an abiding respect for tradition and reinvention coupled with a commitment to challenging established ideals.
(413) 570-4491 | | scdtnoho.com
Spring 2020 East Coast Jam
Claymont Society, Claymont Court Estate
Charles Town, WV, United States
Four full days of dancing at idyllic Claymont Court Estates, near Charles Town, West Virginia! Jammers make the jam—jammers initiate and lead warm-ups, workshops, performances, and other structures. April 15–19, 2020. Enrollment price increases on Sunday, March 29, 2020. Join us, and invite those with whom you love to dance.
Jonathan DeVilbiss (301)602-7864 | | eastcoastjam.com
Sten Rudstrom—Action Theater Berlin
Berlin, Germany
Action Theater™ Certification
Regular trainings in Action Theater™ Improvisation, Improvisation, Instant Composition, and Performance Training. Monthlong August training, two-week February training, and numerous weekend trainings in cities across Europe.
+49 (0)160 106 2309 | +49 (0)30 6959 8848 | | www.actiontheaterberlin.com
West Coast Contact Improvisation Jam (wcciJAM) 2020
Berkeley, CA, United States
Friday, July 1–Tuesday, July 5, 2020, 10AM–midnight.
Five-day intensives with teachers TBA, classes for all levels, open and structured jams, Underscore, labs, family jams, live music, performances, discussions, and much more.
| wccijam.org
Publications & Products
Contact Editions
A curated collection of dance and improvisation books and DVDs is available through Contact Editions. See the full catalog right here on CQ's website.
Videoda Contact Improvisation Archive
Collected Edition 1972 – 1983 (DVD)
6 rare programs: narrated documentaries by initiator Steve Paxton, and documents of performances by founding practitioners. Click here for full info.