Dance Map Directory
contemporary dance & improvisation resources worldwide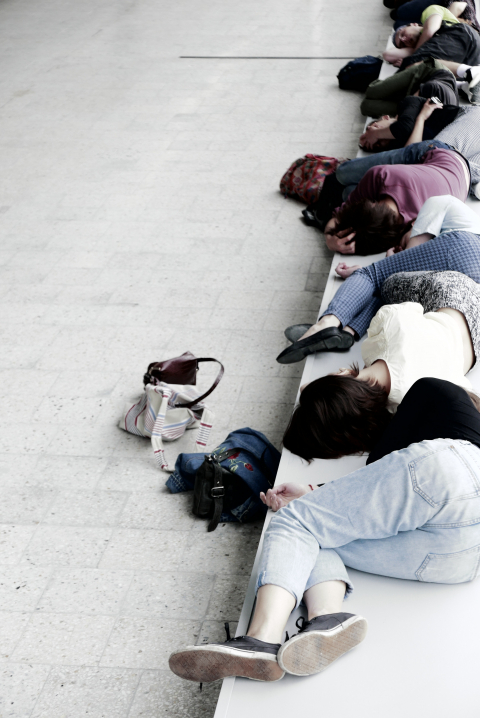 Romain Bigé invites members of the audience to nap in expo zéro, a project curated by Boris Charmatz and Martina Hochmuth, on May 7th 2016 at the Museum of Modern Art in Warsaw, Poland. Photo © Mandoline Whittlesey
Welcome to CQ's 2020 Dance Map Directory. Movers of all ages regularly ask us for guidance on where to study and practice the kinds of dance, movement, and somatic work represented in our publications. Every year we are thrilled to include more resources. Here you will find an expanded list of academic and independent dance programs, somatic programs, organizations, artist residences, retreat centers, festivals, dance-related events, products, and services. We hope you find what you're looking for, as well as inspiration to explore.
For deadlines and specs on how to submit your Dance Map Directory listing, click here.

Updated April 15, 2020


Academic (Undergraduate & Graduate Degree Programs)
Five College Dance Department
Amherst, MA, United States
BA, BFA, MFA
Dance in the intellectually and artistically vibrant academic community of the Five College Dance Department, offering over 100 courses a year through the coordinated curricula of Amherst College, Hampshire College, Mount Holyoke College, Smith College, and the University of Massachusetts at Amherst. Rigorous, diverse dance training in world-class facilities, offering numerous choreographic and performing opportunities as well as theoretical and crossdisciplinary study.
(413) 559-6622 | www.fivecolleges.edu/dance
Gustavus Adolphus College
Department of Theatre and Dance
St. Peter, MN, United States
BA Dance, Dance Minor
The Department of Theatre and Dance's mission emphasizes the value of performance as a vital means of working for social justice and personal transformation. Our program seeks to produce technically skilled, articulate movers who use dance as a way to perceive, discover, create, and communicate. In addition to our accomplished faculty, teaching and choreography is supplemented by nationally recognized guest artists.
(507) 933-7353 | | gustavus.edu/theatre-dance
Mills College
Dance Department
Oakland, CA, United States
BA, MA, MFA
At Mills College, you'll be encouraged to push the boundaries of your artistic vision. You'll integrate your physical and intellectual practice with close mentoring by our renowned faculty and support from our inclusive community of dancers. Find inspiration in the heart of the San Francisco Bay Area's innovative dance scene: expand every dimension of your art at Mills.
(510) 430-2175 | | www.mills.edu/dance
Oberlin College
Department of Dance
Oberlin, OH, United States
BA in Dance
The Oberlin College Dance Department encourages students to create, perform, and think about dance in a manner that is consonant with their studies in the liberal arts. The curriculum offers various approaches to the study of movement, with an emphasis on connecting physical and intellectual learning. We support students' curiosity and encourage a willingness to take risks and explore new ideas.
(440) 775-8152 | | oberlin.edu/arts-and-sciences/departments/dance
The Ohio State University
Department of Dance
Columbus, OH, United States
BFA, MFA, PhD
Located in a state-of-the-art facility near the Wexner Center for the Arts, Ohio State Dance integrates physical practice, creative process, and theoretical inquiry through Movement Practice, Improvisation, Choreography, Performance, Analysis, Criticism, Filmmaking, Design, Intermedia, Technology, History, Theory, Literature, Writing, and Interdisciplinary Collaboration. We embrace a cross-disciplinary perspective at the forefront of contemporary dance in which dance writing deepens performance, digital technologies expand choreography, and historical study informs teaching. Graduate associate and fellowships awarded; NASD accredited. "Ohio State Dance—a nest of brilliance" (William Forsythe).
(614) 292-7977 | | dance.osu.edu
Smith College
Department of Dance
Northampton, MA, United States
BA, MFA in Dance
All graduate students receive fellowships in the two-year co-ed MFA program embedded in the Five College Dance Department. Faculty includes renowned improvisation artists Chris Aiken and Angie Hauser. Specialization areas: performance, choreography, creative process, dance-film, music, pedagogy, dance science, critical theory, and dance research. As technique instructors, fellows obtain significant experience teaching in higher education. Intimate community; close mentorship.
(413) 585-3232 | | www.smith.edu/dance
Texas Woman's University
Department of Dance
Denton, TX, United States
BA in Dance Studies, and with teaching certificate
MA in Dance, MFA in Dance, PhD in Dance low-residency format
TWU's Department of Dance provides a comprehensive liberal arts–based dance program with a rigorous yet noncompetitive creative culture. The bachelor's programs develop students as dance artists and educators. The master's programs merge studio work with an in-depth study of dance as art and cultural expression, providing students the skills and knowledge needed to impact the field of contemporary dance. TWU's doctorate in dance is a research-oriented program with a low-residency cohort format. Students connect theory with practice in such contexts as artistic process, dance studies, pedagogy, and the scholarship of teaching.
(940) 898-2086 | | www.twu.edu/dance | @TWUDance
Trinity Laban and Independent Dance with Siobhan Davies Dance
MA/MFA Programme in Creative Practice: Dance Professional Practice
London, UK
This programme provides a rigorous learning and research opportunity for mid-career dance and cross-disciplinary artists who wish to focus on embodied practices. Two core modules, Embodied Practice and Investigative Practice, are delivered by Independent Dance in the Siobhan Davies Studios. This professional environment allows for intensive and focused somatic, creative, and theoretical inquiry with significant artists and a skilled peer group. Students in need of financial aid can apply for bursary support. On-time deadline for applications: 1 June 2020
| | http://bit.ly/2PsKFsi
The University of California, Los Angeles (UCLA)
Department of World Arts and Cultures/Dance
Los Angeles, CA, United States
BA, MA, MFA, PhD
UCLA World Arts and Cultures/Dance offers two graduate programs, with faculty including Kyle Abraham, Anurima Banerji, Susan Foster, Dan Froot, Victoria Marks, Janet O'Shea, Lionel Popkin, David Rousseve, Tria Blu Wakpa, and Cheng-Chieh Yu. An MFA is offered for those pursuing a professional choreographic career, and an MA/PhD for those more focused on scholarly approaches. Both degrees combine wide-ranging perspectives on the arts, globalization, curation, film, ritual, politics, and critical dance studies.
(310) 825-3951 | | www.wacd.ucla.edu
University of Music and Performing Arts, Frankfurt am Main
Dance Department
Frankfurt am Main, Germany
BA Dance, MA Contemporary Dance Education (MA CoDE),
MA Choreography & Performance (MA CuP)
The BA dance program, with Dir. Prof. Dieter Heitkamp, is built on seven interconnected columns—technique, creativity, body awareness, theory, project work, interdisciplinarity, and performances. MA CoDE, with Dir. Prof. Ingo Diehl, supports dance-makers by reconsidering fundamentals of their practice and the function of the teacher/facilitator in the learning process. MA CuP, with Dir. Prof. Dr. Bojana Kunst, is designed toward dance, body, movement, choreography, and performance, as well as scientific method. In cooperation with the Institute for Applied Theater Studies, Justus-Liebig-University of Giessen. ZuKT collaborates within an international network of artists, theatres, and institutions.
+49 69 154 007 146 | tanz.hfmdk-frankfurt.info; macode.hfmdk-frankfurt.info | www.uni-giessen.de/theater/de/studium/cup (MA CuP)
University of San Francisco
San Francisco, CA, United States
Performing Arts and Social Justice Major, Dance Concentration, Dance Minor
The University of San Francisco Dance Program offers a unique educational model in the performing arts: a four-year program designed to provide in-depth training and practice of dance as social action, grounded in rigorous technical and choreographic exploration. The Performing Arts Dept. offers a Major in Performing Arts and Social Justice with a Dance Concentration, and a Minor in Dance.
(415) 422-5979 | | | www.usfca.edu/pasj
York University—Dance
Toronto, ON, Canada
School of the Arts, Media, Performance and Design
BFA, Choreography/Performance, Dance Education
MFA, Choreography/Collaboration/Creation
MA/PHD Dance Studies
An integrated dancing and dance study approach that provides top level training in the areas of contemporary dance forms, choreography, teaching, production, design, screendance, movement analysis, dance kinesiology, writing, history and ethnography. We provide professional training in an inter-disciplinary environment, and cultivate creative and critical thinking. Be involved in performing, producing, choreographing, teaching, film and video, community outreach, innovative research initiatives, placements and international exchange programs.
(416) 736-5137 | | http://ampd.yorku.ca/about/
Independent: Certificate Programs
Chesapeake Bay Alexander Studies
Annapolis, MD, and Greensboro, NC, United States
Alexander Technique Teacher Training
CBAS is a three-year teacher training program composed of monthly two- to four-day sessions in Greensboro, NC. Trainees also attend residential workshops and private lessons throughout the year and complete independent-study projects. Program is designed for professionals and mature learners who weave the training into their lives. Director Robin Gilmore and other faculty members teach throughout the U.S. and abroad.
(410) 268-2841 | | www.chesapeakealexander.com
DanceAbility Method
Vienna, Austria (Summer 2020)
Summer in Vienna! The only DanceAbility four-week certification course scheduled in 2020 will be held during the ImPulsTanz Festival 2020 in Vienna, Austria, July 5–31. Students will learn "the art of being together" through dance, breaking down barriers between people regardless of ability or disability. Graduates will be certified to teach using the DanceAbility Method. To register, go to impulstanz.com, and follow the links to the course. Enrollment is limited to 32. See you there!
(541) 357-4982 | | www.danceability.com
Eastwest Somatics Institute for Dance, Yoga, and Movement Studies
St. George, UT, United States
Certification through Eastwest Somatics, ISMETA, and Yoga Alliance
Say Yes to your body. At Eastwest, we encourage "beginner's mind." Based on human development, our original Land to Water Yoga is a dancelike form that anyone can do. Soma Flow Yoga offers challenges to those who are ready, and Soma Flow Repatterning underlies all of our work. Moving with nature is a core principle of Shin Somatics, just as nature allows everything to be itself and to grow. Study through a Certification Track or a Personal Development Track.
(585) 298-3734 | | www.eastwestsomatics.com
EUROLAB
Berlin, Germany
Certificate Programs in Laban/Bartenieff Movement Studies (LBMS)
The EUROLAB Certificate Programs in Laban/Bartenieff Movement Studies (LBMS) are offered in a four-week intensive in July/Aug. in Berlin, Germany, in 2021 and every two years. Program goal is to acquire the foundations of a comprehensive movement study and a holistic understanding of movement. The curriculum includes the practical and theoretical study of Bartenieff Fundamentals, Laban Movement Studies, movement observation, motif notation and seminars on the history and application of LBMS. Both parts of the program—Basic Level (2 years) and Advanced Level (2 years)—are directed by Antja Kennedy. Application deadline: March 31, 2021.
+49 (0) 30 5228 2446 | | www.eurolab-programs.com
Moving On Center (MOC)
School for Participatory Arts and Somatic Research
Berkeley, CA, United States
Certificate in Somatic Training (128 hours)
Established in 1994 by co-founders Carol Swann (Director) & Martha Eddy, MOC offers a rigorous and transformative training. A leading pioneer in Somatic Education, MOC integrates numerous somatic systems with the performing arts toward social change. MOC's Somatic Education Module at the Finnish Hall in 2020–21 runs for four extended weekends: Developmental Movement (Diane Elliot), Experiential Anatomy (G Hoffman Soto), Alexander Technique™ (Carol Swann), Body-Mind Centering® (Diane Elliot), Bartenieff Fundamentals™ (Brenton Cheng), Laban Movement Analysis™ (Martha Eddy), Fascia Walking/Axis Syllabus (Kevin O'Conner), and Hakomi Somatic Therapy (Carol Swann). Curriculum includes integration classes, process circles & somatic seminars.
(510) 524-5013 | | www.movingoncenter.org
Somatic Academy Berlin
Paul-Lincke-Ufer 30, 10999 Berlin, Germany
The Somatic Academy Berlin is a place devoted to learning, researching and practicing a variety of integrative embodiment practices (Somatics). Expanding the applicability of somatic methods, the curriculum includes artistic, pedagogical, and therapeutic training programs, workshops and classes for professionals, laypeople, and for all who work with other people using body awareness, movement, voice, bodywork, theory, philosophy and reflection. Our holistic and interdisciplinary approach is thus far unique in Germany. Our training programs include EMERGE Somatics in Dance, Choreography and Performance, Somatic Basics Training, Somatics Pedagogy Training, Continuum Training, Somatic Voice, Somatic Yoga, BMC®, Environmental Somatics, and Somatic Movement Training for Childcare and Education Professionals.
| www.somatische-akademie.de
Sten Rudstrom—Action Theater Berlin
Berlin, Germany
Action Theater™ Certification
Regular trainings in Action Theater™ Improvisation, Improvisation, Instant Composition, and Performance Training. Monthlong August training, two-week February training, and numerous weekend trainings in cities across Europe.
+49 (0)160 106 2309 | +49 (0)30 6959 8848 | | www.stenrudstrom.com
Tamalpa Institute
Kentfield, CA, United States
Tamalpa Graduate Certificate, Tamalpa Practitioner Certificate
Founded in 1978 by dance pioneers Anna Halprin and Daria Halprin, the Tamalpa Institute is an internationally recognized nonprofit organization offering expressive arts training programs and workshops for healing, education, and social transformation. Tamalpa Life/Art Process® combines movement, dance, drawing, and writing, influencing the fields of performance and art-based psychology. The Tamalpa Institute is recognized by the International Somatic Movement Education and Therapy Association (ISMETA) and the International Expressive Arts Therapy Association (IEATA).
(415) 457-8555 | | tamalpa.org
Independent: People, Places, & Programs
Bates Dance Festival
Lewiston, ME, United States
The Professional Training Program (July 19–August 9, 2020) is for dancers ages 18 and up who have experience and curiosity in technique, theory, and pedagogy. Choose from Modern, Gaga, Hip Hop, Jazz, Improvisation, Ballet, and Yoga morning classes, and design your individual experience by taking afternoon intensives in Canon, Contemporary Forms, Making Work, Repertory, and Pedagogy & Social Practice.
(207) 786-6381 | | www.batesdancefestival.org
Body-Mind Centering® Association Annual Conferences
Geneva, NY, United States (2020) / St. Louis, MO, United States (2021)
The Body-Mind Centering® Association's annual conferences offer diverse somatic approaches in addition to recent advances in Body-Mind Centering: new material developed by Bonnie Bainbridge Cohen and BMC Professionals. The 35th Annual BMCA Conference: Resonance, Repatterning, and Revolution, hosts 200 somatic practitioners, movement researchers, and creative activists, June 23–28, 2020, at Hobart and William Smith Colleges, Geneva, NY. The conference features 60 somatic workshops, panels, and performances. Guest presenters include Bebe Miller (pre-conference), Stephanie Skura (post-conference), Christal Brown (plenary session), and RoseAnne Spradlin (BMC masterclass). 36th BMCA Annual Conference: June 1–6, 2021, Washington University, St. Louis, MO. Call for presenters: 5/1–9/30/2020.
| www.bmcassociation.org/conferences
Earthdance
Plainfield, MA, United States
Earthdance is a renowned center for movement, somatics & interdisciplinary arts situated amidst the scenic beauty of western Massachusetts. Our year-round programming includes a dynamic mix of workshops, Contact Improvisation jams, festivals, creative residencies, and community events. Through our range of integrative offerings, Earthdance supports creative investigation of the relationships between body, land, and community. Founded in 1986, Earthdance has been spearheading innovative arts programming and maintaining a vibrant facility for rental groups for over 30 years.
(413) 634-5678 | | www.earthdance.net
Embodiment in Education / Susan Bauer
Berkeley, CA, United States
Offering workshops and trainings for educators in teaching somatics with teens and college-level adults. (See Susan's book, The Embodied Teen: A Somatic Curriculum for Teaching Body-Mind Awareness, Kinesthetic Intelligence, and Social and Emotional Skills; North Atlantic Books, 2018). The program has been attended by dance and movement professionals from across the U.S., Canada, Europe, and Asia. Guest faculty have included Bonnie Bainbridge Cohen, Deane Juhan, and Caryn McHose.
(510) 333-6415 | | www.susanbauer.com
The Equus Projects
Interspecies Research LABs
Oakridge, OR, United States
Dancers, equestrians, actors, activists, therapists, interspecies studies theoreticians, academics, and practitioners: Deepen multisensory noticing, expand nonverbal communication, experience varied leadership strategies, and devise choreographic scores; all explored hands-on equine interactions serve as the foundation for a three-day session in May and a five-day session in July. For more information & registration: www.equus-onsite.org/research-labs. Questions: JoAnna Mendl Shaw.
| www.equus-onsite.org
Festivals Hosted by A.P.E. and the School for Contemporary Dance and Thought
33 Hawley Street, Northampton, MA, United States
Sixth Annual Practicing Presence Festival, May 21–24
Somatics II: Moving Media Festival, Sept. 25–27
Sixth Annual Practicing Presence Festival, May 21–24: Four days of events featuring Xan Burley, K.J. Holmes, Andrea Olsen, Jen Polins, Alex Springer, and Peter Schmitz. Early registration discount before May 1. Somatics II: Moving Media Festival, Sept. 25–27: Featuring new works by Chris Aiken & Angie Hauser, Scotty Hardwig, Andrea Olsen, Jenna Riegel, and friends.
| www.scdtnoho.com
ImPulsTanz—Vienna International Dance Festival
Vienna, Austria
Every summer, ImPulsTanz offers more than 200 workshops and research projects for amateurs and professional dancers with classes in, amongst others, contemporary, modern and urban dance, as well as composition, improvisation and contact improvisation. Among the teachers are Anya Cloud, Sabine Parzer, Maria F. Scaroni, Mary Overlie, Dieter Rehberg, Frey Faust, Jule Flierl, Irena Tomažin, Jonathan Burrows, Matteo Fargion, German Jauregui, and Angélique Willkie.
+43.1.523 55 58 | | www.impulstanz.com
Independent Dance
Siobhan Davies Studios
London, United Kingdom
Independent Dance (ID) is an artist-led organisation that supports dance artists in their ongoing development. It provides a year-round programme of opportunities to learn, share practice, and exchange ideas: regular classes in somatically informed approaches and improvisational techniques, workshops and intensives, discussions, performances, and an MA/MFA Creative Practice.
+44 (0)20 7091 9650 | | www.independentdance.co.uk
Ku & Dancers
Taipei, Taiwan
i-lab 2020, Taitung CI & Improv. Dance Workshop, CI JAMs!
i-lab 2020: An open lab for improvisation dance performance (3rd Sunday evening monthly) providing a space for anyone interested in improvisation dance performance. Taitung CI Workshop: 6 days in Taitung in Jan. & July; CI JAMs: every 1st & 3rd Sunday afternoon monthly.
+886-2-28923600 | | www.kudancers.org
MICI in MAINE
MOVEMENT INTENSIVE IN COMPOSITIONAL IMPROVISATION
with The Architects
Portland, ME, United States
After a year hiatus, MICI is back, reimagined. Designed for improvisers keen on invigorating their practice, this intensive balances deep solo exploration with rigorous exercises in spontaneous ensemble dance-making. Embracing Portland, Maine, as a unique location, the workshop will include time spent working outside, considering locations both natural, and human-made. Participants are responsible for their own food and housing, and will be given a resource list of affordable options. Previous experience with improvisation necessary. Sliding scale $400–$600. June 22–June 26.
(914) 649-1722 | | www.architectsdance.org
Paula Josa-Jones—MA, CLMA, RSMET, SEP, TTEAM
Kent, CT, United States
EMBODIED EQUINE EXPERIENCING is an equine-facilitated, experiential practice. As we bring greater mindfulness to how we move, and the effect of our movement on our horses, the horse's responses help us see and feel when we are discordant, anxious, or unaware, giving us insights into habits of body and mind that may be obstacles to our communication and relationships. The nonjudgmental, reflective presence of a horse can help us settle and ground ourselves physically and emotionally. Paula integrates her experience as a Somatic Movement Educator/Therapist and a Somatic Experiencing® and Tellington TTouch practitioner into her work with horses and humans.
(508) 627-1752 | | www.paulajosajones.org
Ponderosa Movement & Discovery
Lunow-Stolzenhagen, Germany
Ponderosa will present a full program of workshops, residencies, improvisations and archival experiments throughout 2020. Our 20th birthday season will shimmer with open summer residencies and a celebration of the SF/CORE reunion, improvising the future of ponderosa. Fall P.O.R.C.H. modules: site-specific performative actions and rotating dramaturgy enlivened by Contact jams, multidisciplinary collaborations, and somatic practices with facilitation from Jules Beckman, Keith Hennessy, Stephanie Maher, Peter Pleyer, Joy Mariama Smith, Maria F. Scaroni, Jess Curtis, and many more. Keep an eye on the website for future updates on the full program, and we'll see you out here soon.
+49 333 65 549867 | | www.ponderosa-dance.de
The School for Contemporary Dance and Thought (SCDT)
Northampton MA, United States
SCDT is home to internationally experienced performance artists who are also innovative teachers. The School's mission is to showcase contemporary movement training and performance practices that embrace multiplicity, arouse curiosity, and emphasize personal choice. Central to the School's directive is an abiding respect for the tradition and history of reinvention and a commitment to challenging established ideals.
(413) 570-4491 | | scdtnoho.com
TIP—School for Dance, Improvisation & Performance; bewegungs-art freiburg
Freiburg, Germany
One Year Program, Three Month Projects, Postgraduate Programs, Advanced Trainings
Directors: Bernd Ka & Lilo Stahl
We center the advancement of the creatively productive dancer. We provide a holistically oriented training of dance and movement, giving the opportunity for individual embodiment and evolvement of the dancer's personality. The purpose of the school is the professional training of freelance dancers and performers; this includes physical and dancing skills as well as creativity and artistic originality.
+49 761 276167; Mon & Wed 17 – 19:00 h. | | www.bewegungs-art.de
West Coast Contact Improvisation Jam (wcciJAM) 2020
UC Berkeley Hearst Gymnasium
Berkeley, CA, United States
July 1–5, 10AM–Midnight
wcciJAM features open jamming and peer exchange, five-day intensives with Karen Nelson and mayfield brooks, an open intensive with Cathie Caraker & Rajendra Serber, daily family offerings, and single classes with Kathleen Rea, India Harville, Mary Pearson, Sarah Konner, Anna Landauer, Ariadna Franco Martinez, Rebecca Bone, Karin Moriarty, and Paul Singh. Early registration discount; drop-in options available.
| wccijam.org
Publications & Products
Contact Editions
A curated collection of dance and improvisation books and DVDs is available through Contact Editions. See the full catalog right here on CQ's website.
Currents Journal of the Body-Mind Centering Association
Currents Journal of the Body-Mind Centering Association publishes writing on the nature of the body-mind experience across disciplines. Supporting both scholarly and creative texts, Currents' unique approach attends to the development of somatic-oriented writers and their writing in multiple languages. We welcome fresh research, rich description, and embodied documentation of new modes of thinking, healing, and expression in words, photos, and artwork. 2021 Theme: Process: Sequence, Procession, Pilgrimage, Change. Non-Member Annual subscriptions: $22 USA; $30 Int'l. BMCA members receive online as member benefit. For $10 mailing fee, members also receive printed version. Limited back issues available.
https://bmcassociation.org/publications/currents
Somatics Festival 2019 ONLINE
Celebrating the work of Janet Adler, Bonnie Bainbridge Cohen, Nancy Stark Smith, and the 45-year heritage of Contact Quarterly. Videos and photographs of panels, workshops, art exhibits, and more. Free to view and share!
www.somatics2019.com/
Videoda Contact Improvisation Archive
Collected Edition 1972 – 1983 (DVD)
Six rare programs: narrated documentaries by initiator Steve Paxton, and documents of performances by founding practitioners. Click here for full info.