Dance Map Directory
contemporary dance & improvisation resources worldwide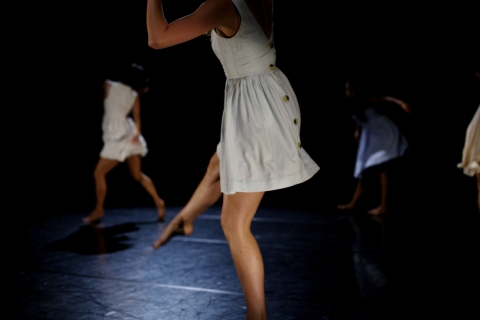 Stephanie Castro, Marina Magalhães, and Veline Mojarro in (UN)BRIDALED at CounterPulse, San Francisco, CA, June 2015. See Magalhães's article in the current issue of Contact Quarterly dance journal, CQ Vol 42.1! photo © Margie Pratt.
Welcome to CQ's 2017 Dance Map Directory. Movers of all ages regularly ask us for guidance on where to study and practice the kinds of dance/movement/somatic work represented in our publications. Every year we are thrilled to include more resources. Here you will find an expanded list of academic and independent dance programs, somatic programs, organizations, artist residences, retreat centers, festivals, dance-related events, products, and services. We hope you find what you're looking for, as well as inspiration to explore.
For deadlines and specs on how to submit your Dance Map Directory listing, click here.

Updated January 10, 2017
---
Academic (Undergraduate & Graduate Degree Programs)
Bennington College
Dance Program
Bennington, VT, United States
BA, MFA
Focus on creating new dance work and, by so doing, learn about the dynamic interrelationship of multiple elements and multiple disciplines. Collaborative opportunities; remarkable facilities.
(802) 440-4547 | www.bennington.edu
California Institute of the Arts
The Sharon Disney Lund School of Dance
Valencia, CA, United States
BFA in Dance, MFA in Choreography
Pursue your passion for dance in a community of practicing contemporary artists, engaging daily in the creation of innovative choreography. Build strong, versatile technique; hone performance skills; cultivate interdisciplinary practices; and participate in all aspects of theatrical production within a rigorous arts environment.
(661) 253-7771 | | http://dance.calarts.edu
Denison University
Department of Dance
Granville, OH, United States
BA in Dance, Minor
A small and vibrant liberal arts school, Denison is committed to intellectual and artistic investigation in multiple areas of study: Movement Practices include Modern/Postmodern, African/Diaspora, and Performance in various genres; Dance Studies encompass Cultural Studies, Composition/Improvisation, Movement Analysis, and Somatics. Courses are taught by three active and accomplished artists/scholars and complemented by a rich Guest Artist Residency Program.
(740) 587-6712 | www.denison.edu/dance
Five College Dance Department
Amherst, MA, United States
BA, BFA, MFA
Dance in the intellectually and artistically vibrant academic community of the Five College Dance Department, offering over 100 courses a year through the coordinated curricula of Amherst College, Hampshire College, Mount Holyoke College, Smith College, and the University of Massachusetts at Amherst. Intensive, varied dance training combining faculty, facilities, and numerous choreographic and performing opportunities.
(413) 559-6622 | www.fivecolleges.edu/dance
Goddard College
Interdisciplinary Arts
Plainfield, VT, United States
MFA in Interdisciplinary Arts
The low-residency Master of Fine Arts in Interdisciplinary Arts (MFAIA) engages artists from a variety of practices, including visual arts, dance, music, theater, performance art, social practice, design, digital media, and the literary arts, to study in a rigorous interdisciplinary context. Not only do students have the opportunity to work across artistic disciplines both individually and in collaboration with peers, but the MFAIA also encourages broader interdisciplinary inquiry, enabling dialogue among art and science, social science, humanities, and other systems of knowledge. Residencies in Plainfield, Vermont, and Port Townsend, Washington.
(802) 322-1613 | | www.goddard.edu/mfaia
Gustavus Adolphus College
Department of Theatre and Dance
St. Peter, MN, United States
BA Dance, Dance Minor
The Department of Theatre and Dance's mission emphasizes the value of performance as a vital means of working for social justice and personal transformation. Our program seeks to produce technically skilled, articulate movers who use dance as a way to perceive, discover, create, and communicate. In addition to our accomplished faculty, teaching and choreography is supplemented by nationally recognized guest artists.
(507) 933-7353 | | gustavus.edu/theatre-dance
Hollins University
Roanoke, VA, United States
MFA Dance
Hollins's MFA program provides students a wide range of experiences, opportunities, mentorships, and exposure to the international dance field. Students gather for five weeks during the summer on the Hollins campus, then travel to Frankfurt, Germany. The European Study is in collaboration with the Künstlerhaus Mousonturm, the Frankfurt University of Music and Performing Arts, and the Dresden Frankfurt Dance Company.
(540) 362-6575 | | www.hollins.edu
James Madison University
School of Theatre and Dance
Harrisonburg, VA, United States
BA in Theatre and Dance, Dance concentration,
Minor in Dance; Teaching Licensure in Dance
The JMU dance curriculum includes progressive levels of modern and ballet technique, dance improvisation and composition, history of dance, performance production and theory of design, anatomy and somatic studies, teaching methods, and repertory ensembles. Elective dance courses include jazz, tap, yoga, Pilates, ballroom, international folk, West African dance, and a summer intensive in contemporary theater and dance in London.
(540) 568-6511 | | www.jmu.edu/theatre
Middlebury College
Dance Program, Department of Theatre and Dance
Middlebury, VT, United States
BA, Major, Joint Major, Minor in Dance
Emphasis on contemporary approaches to dance/movement techniques, composition, performance, and general dance studies. Dance Company of Middlebury tours annually, nationally or internationally.
(802) 443-5677 | |
www.middlebury.edu/academics/dance
Mills College
Dance Department
Oakland, CA, United States
BA, MA, MFA
At Mills College, you'll be encouraged to push the boundaries of your artistic vision as you pursue your BA, MA, or MFA degree in dance. You'll integrate your physical and intellectual practice with close mentoring by our renowned faculty. And you'll find inspiration and support from an inclusive community of dancers and scholars in the heart of the San Francisco Bay Area's innovative dance scene. Expand every dimension of your art at Mills.
(510) 430-2175 | | www.mills.edu/dance
Oberlin College
Department of Dance
Oberlin, OH, United States
BA in Dance
The Oberlin College Dance Department encourages students to create, perform, and think about dance in a manner that is consonant with their studies in the liberal arts. The curriculum offers various approaches to the study of movement, with an emphasis on connecting physical and intellectual learning. We support students' curiosity and encourage a willingness to take risks and explore new ideas.
(440) 775-8152 | | new.oberlin.edu/dance
Sarah Lawrence College
Dance Program
Bronxville, NY, United States
BA in Liberal Arts, Concentration in Dance;
MS in Dance/Movement Therapy; MFA in Dance
The Sarah Lawrence College Dance Program provides an inclusive curriculum that exposes students to vital aspects of dance through physical, creative, and analytical practices. The faculty includes award-winning dance artists with active, creative professional practices. Proximity to New York City allows the infusion of the richness of the NYC dance community into the curriculum. Students are encouraged to study broadly, widen their definitions of dance and performance, inform their practice with ideas that stretch beyond traditional disciplinary boundaries, and engage in explorations of form and function. A variety of performing opportunities are available in both informal and formal settings.
(914) 337-0700 | | | www.slc.edu
Shenandoah University & Conservatory
Dance Division
Winchester, VA, United States
BFA, BA, Minor
The Dance Division of Shenandoah Conservatory is a dynamic program thriving in a private university setting located 70 miles west of Washington, D.C. Dancers take a minimum of eight technique classes a week and maintain intensive rehearsal schedules. Supportive coursework includes improvisation, partnering, dance history, anatomy, pedagogy, production technologies, lighting, and costuming. A six-semester dance composition sequence culminates in a fully produced concert, created and performed by the graduating class. Passionately committed to artistic excellence, the dance faculty mentors students, balancing rigorous expectations with compassion and wisdom.
(540) 674-4479 | |
http://www.su.edu/conservatory/dance-home/
Skidmore Summer Dance Workshop
with Stephen Petronio Company
Skidmore College/Office of the Dean of Special Programs
Saratoga Springs, NY, United States
Non-credit and undergraduate credit
From June 4 to June 24, 2017, Skidmore College will offer an intensive workshop for pre-professional and professional dancers led by Stephen Petronio and Company. This unique training opportunity will offer daily classes in technique and repertory, supplemented by evening and social activities, all on Skidmore College's beautiful campus in upstate New York.
(518) 580-5596 | |
http://skidmore.edu/summerdance
Texas Christian University
School for Classical & Contemporary Dance
Fort Worth, TX, United States
BFA in Ballet and/or Modern Dance
Professionally oriented dance training, emphasizing both practice and theory within a liberal arts environment. See website for program description, photos, faculty info, and yearly calendar of events. Follow us on Facebook: facebook.com/TCUSCCD
(817) 257-7615 | | dance.tcu.edu
Texas Woman's University
Department of Dance
Denton, TX, United States
BA in Dance Studies, BA in Dance Education with teaching certificate,
MA in Dance, MFA in Dance, PhD in Dance
TWU's Department of Dance provides a comprehensive liberal arts–based dance program with a rigorous yet noncompetitive creative culture. The bachelor's programs develop students as dance artists and educators. The master's programs merge studio work with an in-depth study of dance as art and cultural expression, providing students the skills and knowledge needed to impact the field of contemporary dance. TWU's doctorate in dance is a research-oriented program with a low-residency, cohort format. Students connect theory with practice in contexts such as artistic process, dance studies, pedagogy, and the scholarship of teaching.
(940) 898-2086 | | www.twu.edu/dance
The Ohio State University
Department of Dance
Columbus, OH, United States
BFA, MFA, PhD
Located in a state-of-the-art facility near the Wexner Center for the Arts, OSU Dance integrates physical practice, creative process, and theoretical inquiry through Movement Practice, Improvisation, Choreography, Performance, Analysis, Criticism, Filmmaking, Design, Intermedia, Technology, History, Theory, Literature, Writing, and Interdisciplinary Collaboration. Graduate associate and fellowships awarded/NASD accredited. "OSU Dance—a nest of brilliance" (William Forsythe).
(614) 292-7977 | | dance.osu.edu
Trinity Laban and Independent Dance
with Siobhan Davies Dance
London, United Kingdom
MA/MFA Programme in Creative Practice: Dance Professional Practice
This programme provides a rigorous learning and research opportunity for mid-career dance artists. Two core modules—Embodied Practice and Investigative Practice—are delivered by Independent Dance in the Siobhan Davies Studios. This professional environment allows for intensive and focused somatic, creative, and theoretical inquiry with significant artists and a skilled peer group. Students in need of financial aid can apply for bursary support. Deadline for applications: July 1, 2017.
| | www.trinitylaban.ac.uk
University of California, Los Angeles (UCLA)
Department of World Arts and Cultures/Dance
Los Angeles, CA, United States
BA, MA, MFA, PhD
UCLA World Arts and Cultures/Dance offers a comprehensive graduate program, with faculty including Kyle Abraham, Anurima Banerji, Susan Foster, Dan Froot, Angelia Leung, Victoria Marks, Janet O'Shea, Lionel Popkin, David Rousseve, and Cheng-Chieh Yu. An MFA is offered for those pursuing a professional choreographic career, and a MA/PhD for those more focused on scholarly approaches. Both degrees combine aspects of the arts, globalization, curation, film, ritual, politics, and critical dance studies.
(310) 825-3951 | | www.wacd.ucla.edu
University of Illinois, Urbana-Champaign
Department of Dance
Urbana, IL, United States
BFA, MFA
The MFA Program in Dance fosters substantive choreographic research that posits dance as a force in contemporary culture. The program embraces a wide spectrum of individual movement research and embodied practice, and boasts a new facility dedicated to graduate research. Faculty include Jan Erkert, Sara Hook, Linda Lehovec, Jennifer Monson, Rebecca Nett-Fiol, Tere O'Connor, Cynthia Oliver, Kirstie Simson, Endalyn Taylor, John Toenjes, Renée Wadleigh, and Abby Zbikowski.
(217) 333-1010 | | www.dance.illinois.edu
University of Montana
School of Theatre & Dance
Missoula, MT, United States
BA, BFA in Choreography/Performance, BFA in Teaching,
Minor in Dance, Minor in Dance Education
The University of Montana Dance Program offers several degree options for students studying dance, including a BA, a BFA in Choreography/ Performance, a BFA in Teaching, a Minor in Dance, and a Minor in Dance Education. Courses are designed to provide excellent experience in academics, technique courses, choreography, and pedagogy. Students are prepared to enter the world as performers, choreographers, and educators.
(406) 243-2682 | |
umt.edu/umarts/theatredance
University of Music and Performing Arts, Frankfurt am Main
Department of Contemporary and Classical Dance ZuKT
Frankfurt am Main, Germany
BA Dance
MA Contemporary Dance Education / MA CoDE
MA Choreography & Performance / MA CuP
The BA dance program, with Dir. Prof. Dieter Heitkamp, is built on seven interconnected columns—technique, creativity, body awareness, theory, project work, interdisciplinarity, and performance. MA CoDE, with Dir. Prof. Ingo Diehl, supports dance-makers by reconsidering fundamentals of their practice and the function of the teacher/facilitator in the learning process. MA CuP, with Dir. Prof. Dr. Bojana Kunst, is designed toward dance, body, movement, choreography, and performance, as well as scientific method. In cooperation with the Institute for Applied Theatre Studies, Justus-Liebig-University of Giessen. ZuKT collaborates within an international network of artists, theatres, and institutions.
+49 69 154 007 146 | tanz.hfmdk-frankfurt.info; macode.hfmdk-frankfurt.info | www.uni-giessen.de/theater/de/studium/cup (MA CuP)
University of Rochester
Program of Dance and Movement
Rochester, NY, United States
BA in Dance with two concentrations: Creative Expression & Performance, and Dance Studies
University of Rochester's Program of Dance and Movement is committed to offering experiential and theoretical study of dance and movement practices that honor and inform the whole person. Through diverse dance techniques and contemplative practices from all over the world, this unique program explores dance and movement as art, as spiritual practice, as community building, and as personal and interpersonal development.
(585) 273-5150 | | www.rochester.edu/college/dance
University of San Francisco
Dance Program
San Francisco, CA, United States
Performing Arts and Social Justice Major, Dance Concentration;
Dance Minor
The University of San Francisco Dance Program offers a unique educational model in the performing arts: a four-year program designed to provide in-depth training and practice of dance as social action, grounded in rigorous technical and choreographic exploration. The Performing Arts Dept. offers a Major in Performing Arts and Social Justice with a Dance Concentration, and a Minor in Dance.
(415) 422-3318 | | www.usfca.edu/pasj
University of Utah School of Dance
Modern Dance Program
Salt Lake City, UT, United States
BFA and MFA, MFA Graduate Certificate in ScreenDance,
Minor in Dance, Secondary Teaching Licensure in Dance
One of the oldest and top-ranked programs in the country, the Modern Dance program cultivates multiple means of knowing through a rigorous investigation of dance as an aesthetic, intellectual, creative, physi-cal, and cultural practice. Developing future leaders in the art form, the department prepares dancers for the many opportunities and challenges of the profession.
(801) 581-7327 | | dance.utah.edu
Winthrop University
Department of Theatre and Dance
Rock Hill, SC, United States
BA in Dance, BA in Dance with Teacher Certification (K–12)
Program includes modern, ballet, jazz, and many elective areas of dance. NASD accreditation. Scholarships available by audition, with awards ranging up to $13,000 for out-of-state students.
(803) 323-2287 | | www.winthrop.edu/arts
Independent: Certificate Programs
bewegungs-art freiburg
TIP—School for Dance, Improvisation & Performance
Freiburg, Germany
We are in a transitional period. We will close our state-approved two-year program (too much bureaucracy) and move into educational full-time modules, with a three-month Basic module, a one year follow-up Module (beginning in 2018), and shorter Performance and High-Level modules. Focus will change to em-phasize improvisation as instant composition and performance. Major subjects will be Body Awareness & Movement Training, Contemporary Dance Technique, Contact Improvisation & Partnering, Improvisation, and Performance.
+49 761 276167 | | www.bewegungs-art.de
Chesapeake Bay Alexander Studies
Alexander Technique Teacher Training
Annapolis, MD, and Greensboro, NC, United States
CBAS is a three-year teacher-training program composed of monthly sessions of two to four days in Greensboro, NC. In addition, trainees attend residential workshops and receive private lessons throughout the year and complete independent-study projects. The program is designed for professionals and mature learners who weave the training into their lives. Director Robin Gilmore and other faculty members teach annual residential workshops throughout the U.S. and abroad.
(410) 268-2841 | |
www.chesapeakealexander.com
Contemplative Dance
Authentic Movement Workshops and Trainings
Amherst, MA, United States (see website for other venues)
Certificate of Completion of Year-Long Programs I and II (our facilitator trainings)
Contemplative Dance/Authentic Movement Workshops and Trainings. Movement as spiritual practice, artistic resource, psychological narrative. Weekend workshops, weeklong summer workshops, and yearlong programs with Daphne Lowell and Alton Wasson.
(413) 268-3294 | | www.contemplativedance.org
DanceAbility International
DanceAbility Teacher Certification Course
Various Locations
DanceAbility Teacher's Certificate offered
Alito Alessi, Director
Four weeks. Learn to teach improvisation and performance-making to groups of ALL abilities and disabilities. Offered twice annually. Also great for personal artistic and somatic research whether you plan to teach or not. Contact improvisation partially informs this method. Manual with hundreds of exercises included. 2017 courses: July 2–28, Lisbon, Portugal; Aug. 6–Sept. 1, Thessaloniki, Greece.
(541) 357-4982 | | www.danceability.com/teacher.php
Eastwest Somatics for Dance and Movement
St. George, UT, United States
RSMT through ISMETA
RYS 200 & 500 through Yoga Alliance
Land to Water Yoga, Intrinsic Dance, and Shin Somatics® Integrative Bodywork. Sondra Fraleigh and Eastwest Associates teach International Workshops and Retreats in the United States, Japan, New Zealand, the United Kingdom, and Italy. International Conferences in Zion, Utah, every other year. Stay tuned for opportunities to present.
(435) 673-5316 | | www.eastwestsomatics.com
Lower Left Performance Collective
A Program of Marfa Live Arts
Nina Martin, Margaret Paek, Andrew Wass, Leslie Scates, Kelly Dalrymple-Wass, and Shelley Senter. Committed to artistic innovation manifested in research, performance, and guided performance labs. Teaching Contact Improvisation, Ensemble Thinking, ReWire–Dancing States, and Hamilton Floor Barre. Teacher certification programs in US and Europe in Summer 2017.
www.lowerleft.org | www.marfalivearts.org
Moving On Center (MOC)—School for Participatory Arts and Somatic Research 2017
San Francisco, CA, United States
Certificate in Somatic Training (128 hours)
Established in 1994 by co-founders Carol Swann (Director) and Martha Eddy, MOC offers rigorous transformative training. A leading pioneer in Somatic Education, MOC integrates numerous somatic systems with the performing arts toward social change. Returning to the Bay Area, MOC (sponsored by ZAC-CHO/Joanna Haigood) features weekend Somatic Education Modules taught by master teachers in the field. Jan. 25–29: Martha Eddy, G. Hoffman Soto, Carol Swann; April 5–9: Peggy Hackney, Carol Swann, Anne Bluethanthal; July 26–30: Diane Elliot, Frey Faust, Vitali Kononov, Carol Swann; Nov. 1–5: Peggy Hackney, Carol Swann, Brenton Cheng. Curriculum includes Experiential Anatomy, Developmental Movement, Laban Movement Analysis, Bartenieff Fundamentals™, Alexander Technique™, Body-Mind Centering®, Axis Syllabus, Voice Thru the Body, Integration Classes, and Somatic Seminars.
(510) 524-5013 | | www.movingoncenter.org
Patricia Bardi—VMI Somatic Practice
Amsterdam, Netherlands, & Worldwide
Accredited as Registered Somatic Movement Therapist/Educator through ISMETA
Licensed Natural Health Practitioner, KTNO for health insurance,
VMI Somatic Practice Certification Program in Vocal Dance & Voice Movement Integration
Amsterdam-centered program leads to a registered Somatic Movement Therapist/Educator and is accredited by ISMETA and KTNO. The training develops skills connecting dance, movement, voice, improvisation, bodywork, and physical repatterning education. New group begins each autumn. Organ Rebalancing—an advanced bodywork practitioner postgraduate program—is also accredited by KTNO. The Rocca Project, located in the beautiful landscape of Roccatederighi, Tuscany, Italy, is an interdisciplinary performance and healing arts program offered annually in July/August.
+31 (0)6 246 17853 | | www.patriciabardi.com
Spiral Praxis Advanced Studies Program
Spiral Movement Center
Toronto, Ontario, Canada
Somatic Movement Education Certification and Spiral Praxis Certification
Spiral Praxis Advanced Studies Program (registration Summer 2017) offers prospective candidates comprehensive, hands-on training in cutting-edge somatic techniques. The 1,500-hour program will be offered year round and provides rigorous, world-class training for passionate students interested in exploring advanced applications of somatic movement reeducation and research.
(416) 469-3569 | | www.spiralpraxis.org
Tamalpa Institute
Kentfield, CA, United States & Worldwide
Tamalpa Practitioner & MA/PHD Options
Tamalpa Institute, founded in 1978 by dance and expressive arts therapy pioneers Anna and Daria Halprin, offers a comprehensive training program and workshops in the Tamalpa Life/Art Process®, a movement-based expressive arts approach that integrates movement/dance, visual arts, performance techniques, and therapeutic practices. Students learn to incorporate the principles and tools of embodied creativity into their personal development and professional practices and take the work into such fields as expressive arts therapy, education, arts, consultation, health care, and community service.
(415) 457-8555 | | tamalpa.org
Turning the Wheel Productions
Boulder, CO; Missoula, MT; Los Angeles, CA; Cedar Rapids, IA; Wilmington, NC, United States
"The Body Now" Facilitation Certification
A Holistic Journey for Personal Expansion and Community Transformation. Choose to dive into The Body Now and emerge with tools to restore communities, nurture leaders, and inspire inclusiveness and collaboration. Uncover how the wisdom of your body guides you to innovations and interventions that change the whole climate of your playing field, be it educational, political, business, spiritual, or artistic.
(303) 449-5720 | | www.turningthewheel.org
Independent: People, Places, & Programs
Aileen Crow
Creativity Counseling and Performance Coaching
New York City & New City, NY, United States
Creativity Counseling and Performance Coaching for individuals, couples, and groups. Aileen combines Mindell's Process Work with Authentic Movement, Solo Focusing and Art, as well as Neuro-Linguistic Programming, Laban Movement Analysis, and Alexander Technique Plus.
(845) 634-5249 |
Bonnie Bainbridge Cohen
Hosted by the Pomona College Dance Program
Claremont, CA, United States
Embodying the Architecture of the Body as a Foundation for Movement: A 12-day Workshop on a Body-Mind Centering® Approach to Dance. July 7–21, 2017. Join Bonnie in her first long intensive focused specifically on dance. Explore a body-based approach to dancing with ease, flexibility, strength, and expression. Open pathways to natural, effortless fluency; increased dynamic range; expanded choreographic possibilities; and more extensive improvisational creativity.
(510) 243-1500 | | www.bodymindcentering.com
Breitenbush Contact Improv Jam
Detroit, OR, United States
36th year of this 8-day jam, mid-March each year, at a mountain wilderness hot-springs retreat in Oregon. Beautiful tree-surrounded studio; guided warm-ups; evening performances; much open, focused jamming; afternoon workshops with Andrew Harwood; organic, vegetarian meals provided. Various price options. Limited space; fills fast.
(541) 357-4982 | | www.jointforcesdance.com | www.breitenbush.com
Contact Improv Boston
Boston, MA, United States
Weekly events for dancers at all experience levels. Tuesday evening: jams, classes, and Underscores in Harvard Square, Cambridge; Sunday morning: classes/jams in Arlington center. Large residential weekend gatherings welcoming dancers from far afield: May Jam on Memorial Day weekend; Fall Jam on Columbus Day weekend; Winter Workshop on a February weekend. For info on many CI and improv events in the Boston area, join the Yahoo! group ContactImprovBoston.
ContactImprovBoston.com
Earthdance
Workshop, Residency, and Retreat Center
Plainfield, MA, United States
A dynamic mix of dance, somatics, interdisciplinary arts, sustainable living, community, and social justice. Earthdance has been bringing year-round programming—including workshops, festivals, Contact Improvisation jams, creative residencies, performances, retreats, and rental space—to the Pioneer Valley for 30 years.
(413) 634-5678 | | www.earthdance.net
East Coast Jam—Spring 2017
Charles Town, WV, United States
April 5–9, 2017. Four full days of dancing at idyllic Claymont Court Estates, near Charles Town, West Virginia! Jammers make the jam: warm-ups, workshops, performances, and other structures are initiated and led by us. Join us, and invite those with whom you love to dance.
(828) 329-7761 | | https://eastcoastjam.com/
Independent Dance
Siobhan Davies Studios
London, United Kingdom
Independent Dance (ID) is an artist-led organisation that supports dance artists in their ongoing development. It provides a year-round programme of opportunities to learn, share practice, and exchange ideas: regular classes in somatically informed approaches and improvisational techniques, workshops and intensives, discussions, performances, and an MA/MFA Creative Practice.
+44 (0)20 7091 9650 | | www.independentdance.co.uk
Leviathan Studio
Lasqueti Island, BC, Canada
Hosts workshops in Contact Improvisation during the summer months. This off-grid facility boasts one of the best dance floors, suspended on car tires for good spring. Serving organic food in a well-structured environment devoted to the study of Contact Improvisation.
| leviathan.lasqueti.ca
Movement Research
New York, NY, United States
Movement Research, one of the world's leading laboratories for the investigation of dance and movement-based forms, offers low-cost, ongoing, and drop-in classes; workshops; winter and summer MELT intensives; as well as festivals, performances, events, and artist residencies. Movement Research programs feature the most established, progressive teachers and creators in dance today. Movement Research publishes the web-based Critical Correspondence and the print-based twice-annual Movement Research Performance Journal; subscriptions are available online.
(212) 598-0551 | | www.movementresearch.org
Ponderosa Movement & Discovery
Lunow-Stolzenhagen, Germany
From June to September 2016, we offer P.O.R.C.H. professional Summer School Program; TanzLand Festival with intensive training and practices, Contact Jams, performances, and collaborative artistic residencies. We are located in a National Park northeast of Berlin. This year with Yoshiko Chuma, Jess Curtis, Kathleen Hermesdorf, Benoit Lachambre, Stephanie Maher, Peter Pleyer, Jen Polins, Maria F. Scaroni, Kirstie Simson, Meg Stuart, and many more.
+49 333-65-34770 | | www.ponderosa-dance.de
Somatic Movement, Costume & Performance—Sally E. Dean
United States and United Kingdom
Sally E. Dean leads the Somatic Movement & Costume Project (since 2011)—a praxis that includes teaching, choreographic, and costume-design methodologies based on creating and using Somatic Costumes™. These are designed and embedded with sensation and imagery to generate specific body-mind experiences (e.g., Balloon Hat—volume/buoyancy of skull) created in collaboration with costume designers/visual artists Lacunza and Rieckhof. Workshops, performances, installations, films, talks, and publications are offered for somatic practitioners, performance makers, costume designers, and more.
+44 (0)7903601571 | | www.sallyedean.com
SOUL—centre of the body and mind
Titirangi, Auckland, New Zealand
Workshops, classes, and trainings, including Embodied Massage, Biodynamic Craniosacral Therapy, contact improvisation, Skinner Releasing Technique, Shin Somatics, movement therapy, yoga, Pilates, and more. Deep dance trainings; somatic summer schools.
+64 9 8173051 | | www.soulcentre.co.nz
Sten Rudstrom—Action Theater Berlin
Berlin, Germany
Action Theater™ Certification
Regular trainings in Action Theater™ Improvisation, Improvisation, Instant Composition, and Performance Training. Month-long August training, 2-week February training, and numerous weekend trainings in cities across Europe.
+49 (0)160 106 2309 | +49 (0)30 6959 8848 | | www.actiontheaterberlin.com
Velocity Dance Center
Seattle, WA, United States
Velocity is Seattle's premier, award-winning art center dedicated to contemporary dance, fulfilling an unduplicated role as the essential incubator and forward-thinking laboratory for new dance in the Pacific Northwest. Velocity is a "national nexus for dance," with artist-led classes and workshops every day, performances every week, three annual dance festivals, and ongoing humanities programs that activate thoughtful conversations. Home to hundreds of independent dance artists and renowned for producing cutting-edge work, Velocity has featured performances and master classes by Tere O'Connor, Pat Graney, Reggie Watts, Miguel Gutierrez, Zoe Scofield, Anouk van Dijk, Danielle Agami/Ate9, Amy O'Neal, Keith Hennessey + more.
(206) 325-8773 |
West Coast Contact Improvisation Jam (wcciJAM) 2017 Berkeley, CA, United States
wcciJAM 2017: June 29–July 4, 10AM–midnight. wcciJAM features open jamming and peer exchange; 5-day intensives; daily family and fundamentals classes; and single classes with lots of great CI teachers.
| http://wccijam.org
Publications & Products
Contact Editions
A curated collection of dance and improvisation books and DVDs is available through Contact Editions. Click, and read the full catalog here on our website!