Thank you for supporting CQ's mission of serving dancers worldwide by buying our unique digital products: the full archive of CQ Back Issues, Article Collections from CQ journal, Books, and Videos. And more to come!

Kneepad lovers: Look below for a link to a new distributor. (We know kneepads are not digital and we're no longer distributing them, but we list them here until all our loyal customers have connected with the new distributor.)


Article Collections - Digital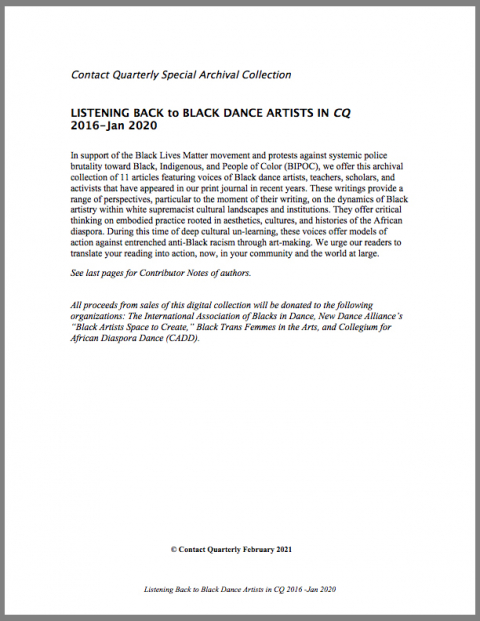 Listening Back to Black Dance Artists in
CQ
2016-Jan 2020
special archival collection
Back Issues
Digitized issues from 1975 to 2020
click on covers for tables of contents
$5 each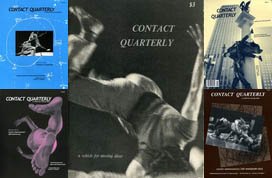 CQ
Complete Back Issue Set
PDFs of each of 108
CQ
back issues.
45% savings!
$300
PDF (1.73 GB zip file)
Digital Books
Videos
NOTE ON RENTALS:

Your video is available to begin viewing within 30 days from purchase. It can be viewed multiple times for 48 hours from the time you first hit the play button on the video player.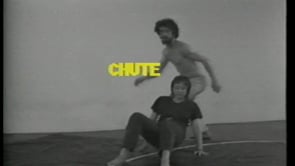 Chute (1979)
© Videoda
9:36 min.
Narration in English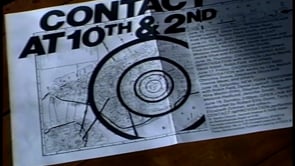 Contact at 10th & 2nd (1983)
© Videoda 49:05 min.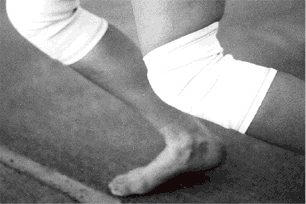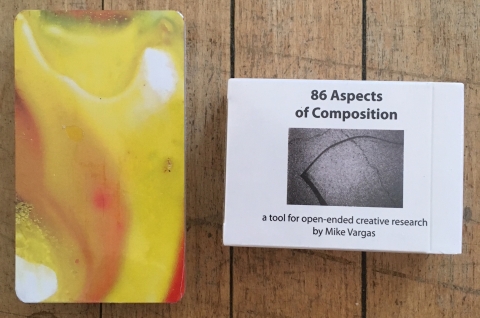 Tools for creative research
and play

Terpsichore's Deck
by Eliza Larson
more info
&
86 Aspects of Composition
by Mike Vargas
more info
HOLIDAY OFFER!
BUY BOTH AND GET
$5 OFF thru Jan. 1st
$44 (reg. $49)
<- productCode="2-creative-decks-of-cards" productCodeId="100322" ->
This is the first paragraph.
This is the first paragraph.
This is the first paragraph.
CQ
Back Issue Mini-Collection: STEVE PAXTON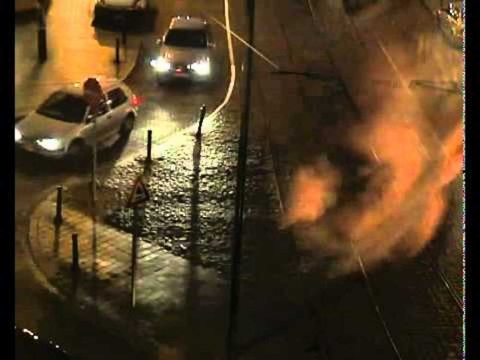 Steve Paxton in video still from DVD-rom Material for the Spine – A Movement Study, produced by Contredanse, Brussels.
This selection of six Contact Quarterly back issues features writings by innovative dance artist Steve Paxton as well as performance reviews of Paxton's solo work. Through a voice that is singularly clear, humorous, and ever provocative, in essays, interviews, images, and letters that span 1975 to 2015, Paxton speaks to a wide range of subjects including Contact Improvisation core principles and practices, performance and choreography, perception and sensation.

In addition to the Paxton articles, this collection of journals is chock full of writings, photos, and drawings by vital dance artists and movement practitioners such as: Alito Alessi, Melinda Buckwalter, Kent De Spain, Irene Dowd, devynn emory, Frey Faust, Simone Forti, Anna Halprin, Dieter Heitkamp, Paula Josa-Jones, Deborah Jowitt, Eva Karczag, Martin Keogh, Ralph Lemon, Karen Nelson, Lisa Nelson, Nancy Stark Smith, Nancy Topf, Mike Vargas, Ruth Zaporah, and more.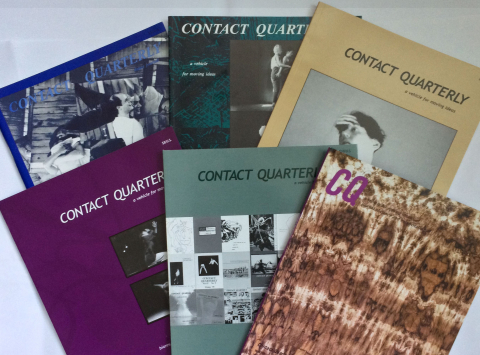 BUY YOUR COLLECTION NOW, as these beautifully illustrated in-print journals will soon become collector's items.

(reg. )
<- productCode="back-issue-bundle-paxton" productCodeId="100277" ->


LIST OF ARTICLES:
all articles are by Steve Paxton unless otherwise noted
[click on volume #s to see full contents of each issue]

Vol. 16.3 (Fall 1991)
"Helix – Nine Rolls" (6 pgs)

Vol. 20.1 (Winter/Spring 1995)
"Letter to Trisha" (2 pgs)
"The Man in the Box" (2 pgs)

Vol. 26.1 (Winter/Spring 2001)
"Steve Paxton: Extraordinarily Ordinary and Ordinarily Extraordinary"
a performance review by Daniel Lepkoff
with side notes by Paxton (8 pgs)

Vol. 26.2 (Summer/Fall 2001)
"The History and Future of Dance Improvisation" (2 pgs)

Vol. 30.1 (Winter/Spring 2005) CQ: The Early Years 1975-1987
Editor note: "For thirty years" (1 pg)
"Dartington March" (1 pg)
"Is Contact Improvisation a Performance Art?" (1 pg)
"Steve Paxton's Improvisations" by Jack Anderson (1 pg)
Letters to CQ: "Improvisation Issue?" "What Authority?" (2 pgs)

Vol. 40.1 (Winter/Spring 2015)
"Gifts: Cage, Cunningham, and the Modern Dance Mutants" (3 pgs)
"Why Standing? Steve Paxton talks about how the Stand relates to Stage Fright and Entrainment in Contact Improvisation" (4 pgs)
Steve Paxton has researched the fiction of cultured dance and the "truth" of improvisation for half a century. Born in Phoenix, Arizona, he began training as a gymnast, studied a variety of modern forms (Graham, Limon, and ballet), and Aikido, yoga, and Tai Chi Chuan. He performed with the Merce Cunningham Dance Company 1960-64, and was one of the founders of the Judson Dance Theater of the 1960s, the Grand Union of the 1970s, and Touchdown Dance (for the visually impaired, UK) in the '80s. In 1972, he instigated Contact Improvisation, which continues today as an international network of dancers who convene to practice and who publish news and research in the dance and improvisation journal, Contact Quarterly, for which he is a contributing editor.
In 1986, he began work on Material for the Spine and produced a DVD-rom on his approach with Contredanse (Brussels) in 2008. Paxton wrote and co-edited three Contact Improvisation documentaries (distributed by Contact Editions): Peripheral Vision 1975, Chute 1979, and Fall After Newton 1987. A film of his solo, The Goldberg Variations improvised by Steve Paxton, was produced by Walter Verdin and KAAI Theater, Belgium, in 1992.
Paxton received the Vermont Governor's Award for Excellence in the Arts (1994) and Lifetime Achievement Awards from the Venice Biennale (2014) and the N.Y. Bessies (2015). His choreography for Quicksand, an opera by Robert Ashley, premiered in N.Y.C. in January, 2016. He lives on a farm in Vermont.

A full listing of Paxton's articles in Contact Quarterly can be found by entering his name in Search.
CQ

/Contact Improvisation Sourcebooks
3-Volume Set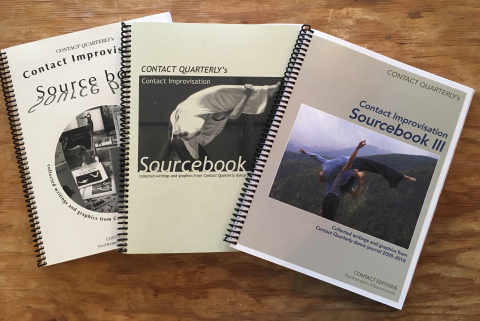 Volume 1 (1975–1992)
Volume 2 (1992–2007)
Volume 3 (2008-2018)
This 3-volume set is an invaluable resource for anyone interested in Contact Improvisation (CI). The Sourcebooks offer a multi-voiced history of CI's development through letters, articles, poems, dialogues, reports, photos, and drawings by
a wide range of dedicated practitioners of this unique contemporary dance form.
The best of 43 years of CQ's
CI writings in their original layout.

Volume 1: 260 pp (reg. )
Volume 2: 352 pp (reg. )
Volume 3: 278 pp (reg. $32)
Contact Editions. 8 1/2 x 11", spiral bound.
NEW!
( subscribers)
subscribe now
<- productCode="cq-contact-improvisation-sourcebooks-3-volume-set" productCodeId="100341" ->
For 4 decades, CQ has distributed these special kneepads to dancers around the globe. Sales of these kneepads have in turn supported CQ's existence in great measure. Since we closed our physical office at the end of 2020, we are looking for a distributor with whom we can continue to collaborate. Until then, we link you to a source you can depend on for domestic sales (U.S.) and an email contact for foreign sales. We'll let you know when our new distributor is in action. Thank you for staying tuned. And dance safely!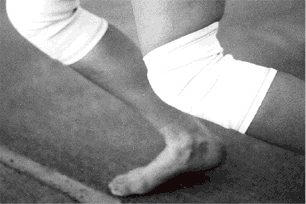 Perfect for dancing and
all kinds of floor work.
These hard-to-find, high quality,
washable, cotton & felt kneepads
are one size fits all!
This is the first paragraph.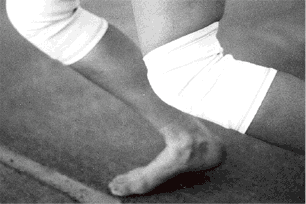 3 pairs for $45!
(reg. $16/pair)
<- productCode="kneepads-summer-sale" productCodeId="100345" ->
Perfect for dancing and
all kinds of floor work.
These hard-to-find, high quality, washable,
cotton & felt kneepads are
one size fits all!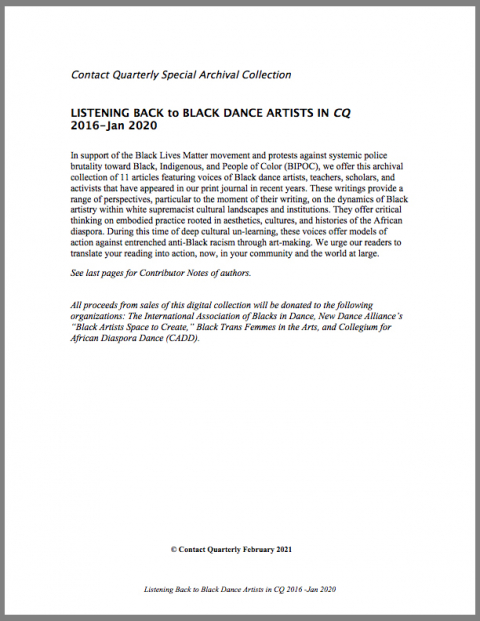 LISTENING BACK to BLACK DANCE ARTISTS

IN

CQ

2016-Jan 2020


Special Archival Collection—PDF
In support of the Black Lives Matter movement and protest against systemic police brutality toward Black, Indigenous, and People of Color (BIPOC), we offer this archival collection featuring voices of Black dance artists, teachers, scholars, and activists that have appeared in our print journal in recent years. These articles provide a range of perspectives, particular to the moment of their writing, on the dynamics of Black artistry within white supremacist cultural landscapes and institutions. They offer critical thinking on embodied practice rooted in aesthetics, cultures, and histories of the African diaspora. During this time of deep cultural un-learning, these voices offer models of action against entrenched anti-Black racism through art-making. We urge our readers to translate your reading into action, now, in your community and the world at large.


All proceeds from sales of this digital collection will be donated to the following organizations: The International Association of Blacks in Dance, New Dance Alliance's "Black Artists Space to Create," Black Trans Femmes in the Arts, and Collegium for African Diaspora Dance (CADD).

The individual articles in this collection are also accessible to read free of charge on CQ Article Gallery on our site.
72 pgs PDF (8 MB)
$20
add to cart
NOTE: Complimentary for BIPOC readers: enter discount code BIPOCREADER on check out.

CONTENTS
IWB = Improvising While Black—writings, INterventions, interruptions, questions by mayfield brooks, with interview by Karen Nelson for CQ
Technology of the Circle—an Interview with Onye Ozuzu by Aretha Aoki
Her Fishtrap—A poetic reflection on Paloma McGregor's Building a Better Fishtrap at Brooklyn Arts Exchange by Ni'Ja Whitson
In Unison—Writings from the catalog for The School for the Movement of the Technicolor People written collectively by dance company WXPT, including artistic director taisha paggett and visual art collaborators Ashley Hunt and Kim Zumpfe
RIFF TALK-ing on Identity and Performance with Jaamil Olawale Kosoko, Joy Mariama Smith, Sara Smith and Tara Aisha Willis; moderated by Cassie Peterson
Move When the Spirit Says Move—Contemplative Dance, Witness, and Embodied Testimony by Christopher-Rasheem McMillan
The Black Dancing Body as a Measure of Culture—a performative lecture by Brenda Dixon Gottschild
NOTES FOR A LECTURE: Body as Archive—Regarding the Persistent Essential Friction of Gesture, Attention, and Memory by Bebe Miller
RELATIONS: A Performance Reunion with & by Tara Aisha Willis, Ishmael Houston-Jones, Ralph Lemon, and Bebe Miller
Marronage—Elaborations on Performance, the Stage, and Staying Alive by Jonathan González
The Future Has Always Been Black—A dancing-word manifesto
by Thomas F. DeFrantz/SLIPPAGE